Posted on November 22, 2011 – 8:53 PM
UPDATED 2013-10-11:
To the best of our knowledge, DxO no longer uses BxU as a sharpness measurement metric
In early 2004, DxO Labs of Boulogne, France introduced a program for analyzing digital image quality called DxO analyzer®. It has aroused a great deal of interest, but its price is far beyond the means of most photographers. (If you have to ask…) Several publications, including Luminous-landscape.com, pictchallenge.com (web), and France's outstanding Chasseur d'Images (print) use it for testing cameras and lenses.
DxO analyzer measures sharpness using the Blur Experience Unit (BxU®), which was defined by Luc Marin of DxO in a PMA 2005 PowerPoint presentation.
"Our convention : BxU = -1 for "Adobe PhotoShop 7.0" sharpen function. Therefore "Sharpen more" BxU = -2.7″
It may seem counterintuitive to define blur in terms of sharpening (yes, it's confusing), but there's a reason:  familiarity. Photographers rarely apply blurs, but sharpening is an important part of digital image processing. For best results sharpening needs to be applied to nearly every digital image (in the camera, RAW converter, and/or image editor).
In a conversation in late 2006, Dr. Frederic Guichard of DxO indicated that the BxU is proportional to the variance (σ2) of the line spread function LSF— the derivative of the average pulse— a convenient measurement that does not require an MTF calculation. Variance is displayed by Imatest SFR when Line spread function is selected for the Edge plot (the upper plot of the MTF figure).
In this post we derive an approximate relationship between BxU, MTF, and variance. We present it here, before we get into the details, which most readers will prefer to skip.
One BxU (DxO's Blur Experience Unit) is equivalent to 1 (or perhaps 1.25) applications of the Photoshop Blur filter.
     Approximately (using 1 Bxu = 1 Blur),
     MTF @ 0.25 cycles/pixel (half-Nyquist) = 0.862 * 0.78BxU).
     MTF50 (cycles/pixel) = 1 / sqrt(6.067 BxU + 3.6)
These numbers were derived from the tables below using the observations that Blur is the approximate inverse of Sharpen and that the number of Blur applications is proportional to 1/MTF502. Alternatively,
BxU is approximately equal to 4.6 * LSF variance (σ2) in pixels
The details
In the paper, "Uniqueness of blur measure" by
Jerome Buzzi
and Frederic Guichard, IEEE International Conference on Image Processing, 2004 (which contains some truly formidable math), blur is is equated with
the variance (σ
2
) of gaussian blur, exp(-x
2
/(2σ
2
)). (This one dimensional equation is somewhat simplified. DxO uses two-dimensions:
Blur
= (σ
xx
2
+ σ
yy
2
) / 2 ). Since σ has units of distance, this suggests that BxU is proportional to the square of the 10-90% rise distance. And since the Fourier transform of a gaussian is itself a gaussian, this implies that
BxU is proportional to 1/MTF502
. We examine this hypothesis below.
The effects of the Photoshop 6 Blur More and Blur filters were analyzed by applying each operation five times to an ideal edge of moderate contrast (pixel levels 202 and 50), shown on the right unmagnified and magnified 4x. The image on the lower right is the edge after two Blur Mores. Imatest SFR produced the following MTF results.

 

Blur more

Blur

N

MTF50

(C/P)

m1
m2

R10-90

Pixels

R10-

902

MTF @

.25 c/p

σ2

Pixels

MTF50

(C/P)

m1
m3

MTF @

.25 c/p

σ2

Pixels

0

0.526

3.61

0

0.953

0.91

0.862

0.121

0.526

3.61

0

0.862

0.121

1

0.229

19.1

1.07

2.13

4.54

0.431

0.637

0.332

9.07

0.90

0.665

0.343

2

0.173

33.4

2.05

2.78

7.73

0.224

1.14

0.256

15.3

1.93

0.516

0.565

3

0.145

47.5

3.02

3.36

11.3

0.123

1.65

0.216

21.4

2.93

0.402

0.777

4

0.127

62.0

4.02

3.80

14.4

0.071

2.16

0.191

27.4

3.86

0.313

0.99

5

0.115

75.6

4.96

4.18

17.5

0.043

2.65

0.172

33.8

4.98

0.247

1.21

N = number of applications.
m1 = 1/ MTF502

Blur more:  m2 = (m1-3.6)/14.52

Blur:  m3 = (m1-3.6)/6.067

Ideal edge

Edge with Blur More applied twice

Unmagnified

4X Magnified

 
These results confirm an inverse square relationship between MTF50 and the number of Blur More and Blur applications. Two Blur more operations equals five Blur operations. m2 and m3 are approximately equal to the number of applications.
Each application of

Blur More

cuts the response at 0.25

cycles per pixel (half the

Nyquist
frequency

) by half. This suggests an equation (though probably not

the one used to calculate BxU): BxU = -log

2

(

MH

)

= -3.322 * log

10

(

MH

), where

MH

is the MTF at 0.25 cycles per pixels (half-Nyquist).
The calculation of variance σ
2
is somewhat tricky. The equation is derived from probability theory, but it can behave strangely. σ
2
can have negative values because the line spread function
LSF
(
t
), which is the derivative of the averaged pulse, can have negative values (undershoots) that never occur for probability density functions.
First, the mean location of LSF(t) needs to be calculated. This can be done using LSF or LSF2. The latter seems to work better.
     E(t) = Σ ti LSF2(ti) / Σ LSF2(ti)
     σ2 = Σ (ti-E(t))2 LSF(ti) / Σ LSF(ti)
The sum in the σ2 equation has to be taken over a limited region so that noise at large distances from E(t) (i.e., outliers) does not distort the results. If LSF2 had been used instead of LSF in this equations, undershoots, which make edges look sharper, would increase σ2.
After we learned Luc Marin's definition of BxU = -1 for one Photoshop sharpen function, we ran some tests and found that the Sharpen function is the approximate inverse of the Blur function, at least when measured by MTF50. It's a little off when measured by MTF @ 0.25 cycles/pixel. The negative values of σ2 were caused by undershoots due to sharpening.

 

Test

MTF50

(C/P)

MTF @

0.25 cy/pxl

σ2

Pixels

Original ideal edge

0.526

0.862

0.121

with one Blur

0.332

0.665

0.343

with one Sharpen

0.753

1.28

-0.270

with one Blur + Sharpen

(order doesn't matter)

0.531

0.973

-0.113
Pictchallenge.com adds a bit of confusion to the issue. Their extensive description of DxO states, "… une valeur de "2″ correspond par rapport a cet ideal a un cran de "plus flou" de Photoshop." This appears to imply that 2 BxUs equals one Blur more, but I'm not certain— I'm not a master of French. They also have a DxO image that shows BxUs of around 1 for the outstanding Macro Nikkor 60mm lens. They translate BxUs into their own rating system, where sharpness (pique) of 3 is poor and 5 is excellent. I haven't been able to figure out the precise relationship between these numbers and BxU.
Since one application of Blur More is equal to 2.5 applications of Blur, Pictchallenge.com's statement implies that one BxU is equivalent to 1.25 Blur applications— a little confusing; 1 seems more likely.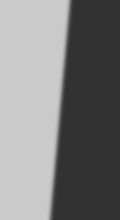 Luminous-Landscape's erroneous BxU description
When we first became aware of DxO in July 2004, we struggled with an apparent discrepancy between published test results and Luminous-Landscape.com's definition of BxU as equivalent to one Blur More.
Edge after Blur More has been applied 6 times. Unmagnified.
Reported BxU numbers appeared to be much too large to fit this definition. For example, Luminous-landscape.com, imaging-resource.com and dpreview.com tested the 8 megapixel Sony DSC-F828. The Imatest SFR analyses of the ISO-12233 charts in dpreview.com and imaging-resource.com indicates MTF50 = 0.344 and 0.352 cycles/pixel, respectively, near the image center for focal lengths = 22mm at f/5.0 and 8.2 mm at f/4.0 (both excellent performance). The LL report indicates a Y-channel BxU of about 1.7 for the best combinations of focal length and aperture— much higher than one would expect from MTF50 around 0.35. The LL report on two Canon 400 mm L lenses shows BxUs over 6 for several apertures— up to nearly 12 for the 100-400 at f/22. Assuming the good technique (sturdy tripod and mirror-lock: de rigeur for long tele lenses), this would be horrible performance with the assumption that 1 BxU = 1 Blur More. Horrible even for a Brownie; unimaginable for a Canon L lens.
No, it's not my calculation. You can observe the problem by visually comparing images of the ISO-12233 chart with an ideal edge with Blur More applied one or more times. (You can download the unmagnified ideal edge, above.)
The resolution: We have concluded that the Luminous-Landscape.com's definition of BxU is erroneous. We'll stick with 1 BxU = 1 Photoshop Blur (not Blur More). Case closed.
*DxO, DxO Analyzer, and BxU are registered trademarks of DxO Labs. Photoshop is a registered trademark of Adobe Systems.