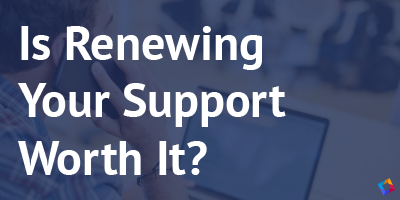 Is Imatest support worth renewing? In this post, we will explain what Imatest support includes, and why you should renew support on your Imatest software.
What is support?
Maintaining current support on your Imatest license gives you access to two things:
All updates and new versions released for the software during the support period

Access to our imaging science engineers for questions and assistance with the software and with your projects
Why should you utilize our support?
There are several reasons why our customers find value in having support:
Stay current with standard and industry requirements: Our engineers are continually adding and improving features based on advancements in standards and KPI measurements, such as ISO imaging standard groups, IEEE P2020, and IEEE CPIQ

.

Utilize the latest capabilities: We release over

40 software updates

each year that enhance usability, add tests, and fix bugs. Our updates include customer-requested features, chart feature measurements, improved calculations, new modules, and updated metrics.

Leverage our engineers' diverse knowledge of imaging science to solve your challenges: Contact our knowledgeable Imaging Science Engineers to help solve any challenge you are facing with your project and analyses.
A Historical Timeline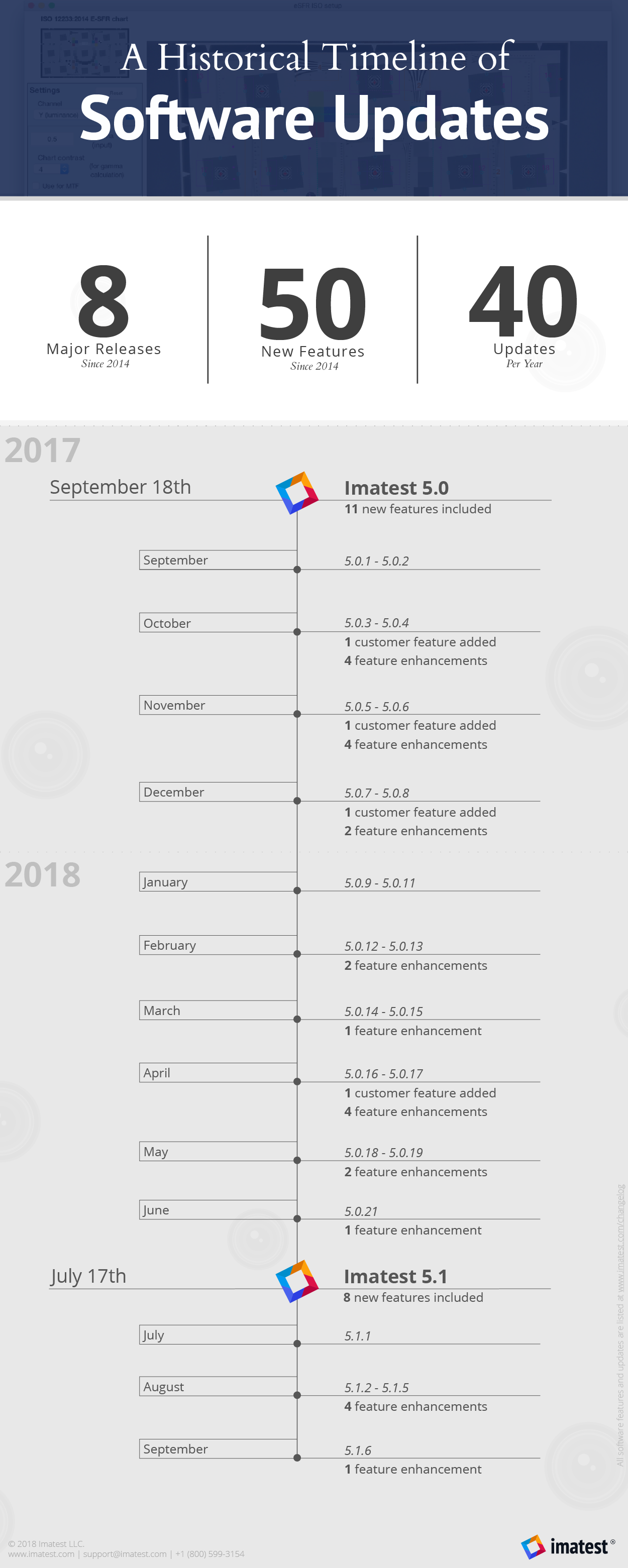 Updates Applicable to a Variety of Industries
Most of our 50 new features are applicable to several industries.

Features Added in The Past Year
Highlights from our latest release, Version 5.1
(release date July 2018):
Highlights from Version 5.0:
(release date September 2017):
Database

: Collect important information regarding image capture conditions, device state, and EXIF metadata into Imatest's new database system. Easily keep track of numerous testing sessions in a convenient web application.

Test Manager

: Process a collection of images with automated analysis routines. Use either free-form test plans to assign relevant test categories to each imported file or use predefined test plans to run standard testing procedures such as CPIQ analysis.

Reports

: Efficiently analyze data outputs for preferred metrics. Generate reports in interactive HTML and printable PDF formats.

Arbitrary Charts

: Define your own chart layout to combine image quality factors for analysis on one chart. Significantly reduce the number of images needed to complete the testing process.

Contrast Resolution

: Measure and visualize the distinguishability of low contrast objects within larger fields, over a wide range of brightness.

ISO 18844 Flare

: Automatically analyze flare based on the new ISO 18844 standard within the Uniformity module.

Image Acquisition

:

Imatest 5.0 provides a direct interface with several camera capture boards for automatic image acquisition in Imatest Master.
See our ChangeLog for a complete list of new features and updates.
Renew Your Support
We make improvements to our software almost every day. Take advantage of them and leverage our expertise to complete your projects.
You may also submit a PO to sales@imatest.com. Or if you would like to talk to one of us before purchasing, please email us at sales@imatest.com.