Imatest 4.5  
The Checkerboard Module,
which calculates distortion, MTF, and lateral chromatic aberration is Imatest's primary recommended means of calculating optical distortion. It produces highly accurate results and works well with highly barrel-distorted (fisheye) images, which cannot be analyzed with the Distortion module.
SFRplus also measures distortion with similar results to the Distortion module. A key advantage of 

SFRplus

is that it can measure distortion in highly barrel-distorted (fisheye) lenses using pre-distorted charts. It can also measure Field of View (in addition to performing a great many image quality measurements).
SMIA TV Distortion
SMIA* TV Distortionfrom the SMIA specification, §5.20. Referring to the image on the right,

SMIA TV Distortion = 100( A-B )/B ; A = ( A1+A2 )/2

The box on the right is described in the SMIA spec as "nearly filling" the image. Since the test chart grid may not do this, Distortion uses a simulated box whose height is 98% that of the image. Note that the sign is opposite of k1 and p1. SMIA TV Distortion > 0 is pincushion; < 0 is barrel.

[*SMIA is the now-defunct "Standard for Mobile Imaging Architecture", started by Nokia and STMicroelectronics in 2004.]

Algorithm: SMIA TV Distortion is not actually calculated from the upper and lower horizontal lines in the chart, whose locations can vary considerably for different images. Instead it is calculated from the distortion coefficients: 3rd order (k1) prior to Imatest 3.7; 5th order (h1 and h2; slightly more accurate) for 3.7-3.9, and the setting used for the line display (5th order recommended) for 3.10+. The coefficients are used to create virtual horizontal lines (by extrapolation) located 1% of the image height below the top and above the bottom of the image.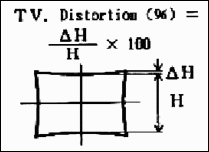 SMIA vs. traditional TV distortion
SMIA TV distortion is twice as large (2X) as traditional TV distortion. The traditional definition, shown on the right, has been adapted from the publication "Optical Terms," published by Fujinon. The same definition appears in "Measurement and analysis of the performance of film and television camera lenses" published by the European Broadcasting Union (EBU).
At Imatest we prefer the SMIA definition, which has been widely adopted in the mobile imaging industry, because it is self-consistent. In the traditional definition, TV distortion is the change (Δ) of the center-to-top distance divided by by the bottom-to-top distance. In the SMIA definition, both A and B are bottom-to-top distances.
Traditional TV distortion is likely to be included in an upcoming ISO standard. When this happens we'll offer a choice (a checkbox).
Although any number in this list can be used as a summary measure of distortion, SMIA TV distortion is a good choice because it's easy to visualize.
Coefficient k1 from the equation, ru = rd + k1 rd3 where r is normalized to the center-to-corner distance. k1 = 0 for no distortion; k1 < 0 for pincushion distortion; k1 > 0 for barrel distortion.
Coefficients h1 and h2 from the fifth-order equation, ru = rd + h1 rd3 + h2 rd5. The selected area must contain at least five horizontal and vertical lines.
The Lens Distortion correction coefficient and scale factor for Picture Window Pro. The sign is the same as k1. The scale factor is the value that includes as much as possible of the original image without including areas outside the image. It is less than 1 for barrel distortion and greater than 1 for pincushion.
The calculation used for plotting the corrected lines. Selected in the input dialog box.

3rd order

,

5th order

, and

Picture Window Pro

are the choices.
Picture Window Pro uses a tangent/arctangent model of distortion, which works well for a variety of lenses, including fisheyes.
ru = tan(10 p1 rd )/ (10 p1 ) ; k1 > 0 (barrel distortion)
ru = tan-1(10 p1 rd )/ (10 p1 ) ; k1 < 0 (pincushion distortion)
Where p1 is the correction coefficient. Using Taylor series, we can show that it is similar to the third-order model,
tan(x) = x + x3/3 +2x5/15 + … ; tan-1(x) = x – x3/3 + x5/5 – … ( x2 < 1) ;
ru = x + 100 p12x3/3 + … (barrel); ru = x – 100 p12x3/3 + … (pincushion) ,
k1 ≈ sign( p1)*100 p12/3 for small values of k1 and p1. k1 and p1 diverge for large values.
The plot includes arrows that illustrate the change in radius when distortion is corrected. Distortion was too low on the above plot to make the arrows visible. They are illustrated in the plot below for a large amount of simulated barrel distortion. You can try different line display calculations to see the difference.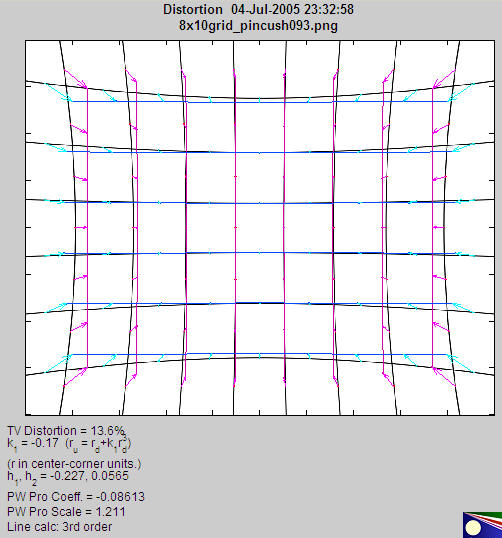 Main figure with extreme (simulated) pincushion distortion, illustrating arrows.
Here is an example of results from an ISO 12233 test pattern, which contains two lines suitable for measuring distortion. They work but they're not ideal: they would be better if they were thinner and closer to the image boundaries. This camera has a modest amount of pincushion distortion. A zoom of a portion of the selected area is shown above.