Welcome to the Imatest Pilot Program! See below for details on the current release, download links, known issues, and other information. If you are not currently participating in the Imatest Pilot Program, you can join here.
New Features and Enhancements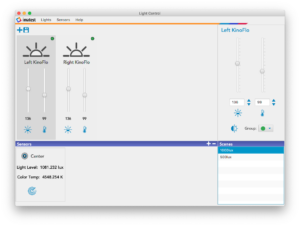 Lighting Control — Set up and control DMX lights (Kino Flo) and Lightboxes as well as monitor lighting conditions with an Isolight puck directly from Imatest using tools specifically designed with image quality testing in mind. This feature enables you to manage the brightness and color temperature of individual lights and save your settings to scenes which allows you to perform rapid switching between light configurations.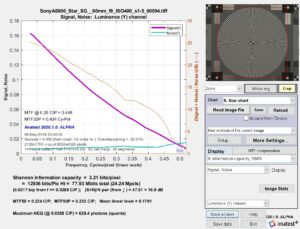 Shannon Information Capacity — Measure the Shannon information capacity of imaging systems in units of bits per pixel from sinusoidal Siemens star patterns. Because frequency-dependent signal and noise are measured from the same locations on the star, they are subject to identical image processing, unlike slanted-edge MTF and flat patch-based noise measurements.
Improved CCM Calculations — The previous Color Correction Matrix (CCM) calculation derived from images of color charts (including grayscales) generally requires some knowledge of the gamma (OECF) curve of the image for proper linearization. The new version calculates the linearization parameters from the grayscale patches on the target. Results are more accurate than previous methods.
MATLAB Compiler Runtime Library R2019b Update — Add Mac OS X Catalina Support, decrease build size.
Software Analytics — Help us understand the usage patterns of license holders. When you opt in to share usage data with us, we can learn which areas of the software are used most often, which will help us improve our support and offer new licensing options.
Pilot Program Instructions
To access Imatest Beta releases, your license must be in support. You can check the support status of your license by going to the Customer Portal and checking the My License tab. If support on your license has expired, you may request a trial license to use with the Pilot Program by contacting us at beta@imatest.com. Please note that in most cases you will not be able to request more than one trial.
We recommend you back up your default INI folder before installing the beta release. The location of the INI folder is dependent on your operating system, and you can easily find it from within the Imatest software by going to File > Open INI file folder, or in the following locations:
Windows: %APPDATA%\Imatest\
Linux: home/USERSNAME/.imatest/
OSX: /Users/USERSNAME/Library/Application Support/Imatest  
Issues, Feature Requests, etc…
Our known issues are listed below. If you come across a bug while using the Pilot, please use the in-software bug reporter for crashes or contact support@imatest.com with details about what you've found. If you see something that could be improved or you think is missing an important feature, please let us know at support@imatest.com.
One of the most important aspects of the Pilot Program is to make sure that any changes we are planning on making do not negatively affect your work. Please let us know if you find anything that interferes with your process or if there is anything we could do to make our software easier for you.
License Activation
For help activating your license, see our activation documentation. Additional minor features, as well as a comprehensive list of bug fixes, can be found in our Change Log.
Mac OS Notice
For Catalina users: We are still working on Catalina's code signing so you will need to accept the installer under Settings > Security & Privacy
If you have installed a previous alpha or beta release, please delete the application Imatest Master 2020.1 before installing.
Per this notice you will have to run the following command before you can run Imatest:
1) Open a terminal window
2) Issue the following command:
sudo chown -R `whoami` ~/Library/Application\ Support/Imatest/
3) Enter your associated Mac OS account password
4) Start the program again.
We apologize for the difficulties in installing and executing our software on Mac OS.
Downloads
---
Select an Operating System:
---
The Imatest License
The Imatest license agreement can be found here. Please contact us if you have questions.
Known Issues
SFRreg Setup_Error in DatabaseMonitor/getRunModuleArguments (line 823): Running an SFRreg image through the database interface
IT Blemish Test MWMCR::EvaluateFunction error No such file or directory
Grid Plot data is not parsed when running the Blemish Detect Module
Add labels to CSV output when analyzing dead pixels in Blemish
Apply SFRreg new numbering scheme to reflect on "SFRreg_locations" in the CSV
SFRplus_Error in bayer_init (line 76): Crash upon running a Bayer image
multitestJSON (line 179): Reference to non-existent field 'mx_lin'.
SFRreg Setup_Missing space in Display#4 (Expand the Display all results dropdown)
Checkerboard Setup_Error in rescharts>disp_thumbnail (line 1715): Crashing upon selecting 3D plots (Display#9) with attached image
Checkerboard Setup_Error in sfrplusJSON (line 430): Saving the JSON File
SFRplus_sfrplusJSON (line 173): Parsing JSON data
Checkerboard Setup_Error in sfrplus_distort_plotrad (line 82): Plotting Radial Distortion upon selecting 11th Order polynomial under more settings
SFRreg: The Dropdown in Display 8 and 11 are missing parameters
Find Sharp Files_Error in sharpfile>run_sharpscan (line 373): Select "Sort plot by name" prior to reading any files
Discrepancy when interpolating f and MTF using a SFRplus Chart
clicked the exit button on the Imatest main window.
SFRreg_ Error in sfrplusJSON (line 105)
eSFR ISO_ Error: Error using cubicreg (line 38): Selecting Option#14 after attempting to start a new analysis of the current image
Device Manager not saving settings where it should
SFRreg Setup_Error in noiseplot (line 1867): Analyzing noise using a SFRreg center chart
Checkerboard Setup_Error in sfrplus_multicsv (line 272): Saving CSV files
Color/Tone Auto x axis unit settings are not maintained
Image Stats rectangle selection with no image
Uniformity Interactive: JSON file always gets saved whenever PDF and HTML are selected as outputs
Test Charts_Error in testtargs (line 2213): Canceling the save upon creating a test chart with any pattern
Batchview Module_ Error in Batchview>updateplot (line 1300): Changing a folder name and restarting Batchview
Image Processing_Error: Error using legend (line 158): Select MTFnn
Color/Tone Auto_ Error in multicharts_plot (line 1786)
Read Raw writing of 32-bit png crashes
SFRreg Auto_Error in sfrplus_multicsv (line 171): Reading a checkerboard image
Linux Installer doesn't work if run from a directory with spaces in path