C++ Application Engineer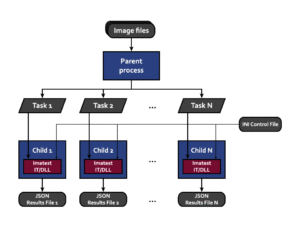 Imatest LLC is a well-established engineering company based in Boulder, Colorado, that focuses on measuring the quality of digital imaging systems. Our software, hardware, and test charts are used for R&D and manufacturing testing in a wide variety of industries, including smartphones, tablets, medical imaging, automotive imaging, machine vision, and space exploration.
We are seeking a full-time employee whose primary responsibility will be the development of cross-platform commercial software with a focus on image processing applications.
Software Development – consultation, requirements, design, implementation, testing, release, support
Interface with the imaging science team to develop strategies for efficient implementations
Profiling of existing algorithms identifying performance bottlenecks and targets for optimization
Ability to transition legacy MATLAB-based Implementations over to C++ code
Integrate with APIs to acquire images from various hardware interfaces and image data sources (frame grabbers, IP cameras, development boards, libraw, libVLC, OpenEXR)
Internal and product code-base maintenance and refactoring
Investigate and evaluate new frameworks, toolboxes or other technologies for use by the software development team
Your qualities:
Fluent in modern C++ (C++11/14/17)
Platform agnostic approach to developing native applications Windows, Linux and MacOS
Experience with OOP and testing frameworks
Experience with OO design
GUI development: Qt, GTK, Swing, etc.
Experience with continuous integration tools, e.g. Jenkins
Strong desire and ability to craft high-quality software products with usable front ends and well-architectured back-ends
These qualities are a plus:
Project management: Agile, Scrum, Jira.
Parallel programming experience with OpenMP or TBB
Experience with numerical computation libraries, e.g. Eigen, Blaze, Intel MKL, Armadillo. Python, and Java programming and the ability to learn new languages as needed
Technical writing including LaTeX, data visualization & interpretation
Experience with MATLAB
Korean language skills
Availability for occasional domestic and/or international travel
Company benefits:
Group health insurances (medical, dental, vision)
Long and Short-term disability
Paid time off and scheduled holidays
401K plan
Life Insurance
Flexible work schedule
COVID-19 considerations:
Domestic and international travel is currently not allowed due to COVID-19
Sounds interesting?  If so, send your resume to careers@imatest.com