Previously, lights in a testing environment had to be controlled manually or via external software in what was often a time consuming and tedious process. With the introduction of Lighting Control in Imatest Master 2020.1, we give users the opportunity to fine tune and control their laboratory setup directly from the Imatest software using tools designed specifically with image quality testing in mind. Now in Imatest Master 2020.2, we have added new support for 16-Bit DMX control, compatible with our KinoFlo LED Lighting System. This new feature will allow finer control over lighting conditions to facilitate a greater range of testing opportunities.
View on YouTube
Features
Easily view and manage your lighting system in a straightforward and easy to understand GUI

Quickly control the brightness and color temperature of individual lights

Group lights together for easily changing multiple lights simultaneously

Save the current settings of all connected lights for quickly switching between light levels and scenes

View live values from up to four Isolight Puck Light Meters

16-Bit DMX control for KinoFlo LED Lighting Systems.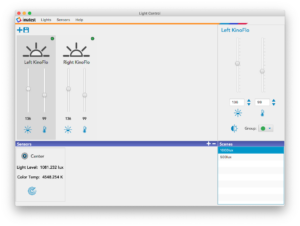 What We Support
Imatest light control is designed to be compatible with:
| | | | |
| --- | --- | --- | --- |
| Device | Windows | Mac | Linux |
| | ✓ | ✓ | ✓ |
| DMX compatible lights (up to 512 channels) | ✓ | ✓ | X – Contact us if this impacts your work |
| Imatest lightboxes and light panels | ✓ | ✓ | ✓ |
| ITI lightboxes | ✓ | ✓ | ✓ |
Recommended Equipment
| | |
| --- | --- |
| Imatest lightbox | The Imatest LED Lightbox produces uniform light with excellent spectral characteristics that can be adjusted over a wide range of brightness for illuminating transparency test charts. They are available in a variety of sizes and can be adjusted to meet your specific transmissive testing requirements. |
| KinoFlo LED DMX Lighting System | The Kino Flo LED lighting systems are ideal for providing uniform, glare-free illumination for Imatest's full range of reflective test charts. Available in multiple sizes to meet your reflective testing needs. |
| Enttec DMX USB Pro | An industry standard in DMX-USB control. Supports either, DMX Input or DMX Output mode. And comes RDM enabled too (with correct firmware, not supported by Imatest Light Control). So, no matter what project you have, DMX USB PRO is the perfect device to accompany your computer and software. |
| Enttec Open DMX USB | An economical option for DMX control needs. |
Lighting Control User manual (2020.2)
Download the Lighting Control User Manual here for step-by-step instructions on implementing Imatest Light Control in your laboratory.