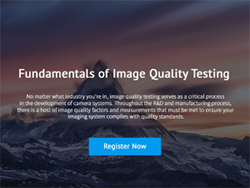 For many engineers tasked with designing camera systems for a product, image quality testing is a complicated endeavour given the variety of test charts and measurements available. 
Understanding which image quality factors to measure in your product and how to interpret results will ensure your product is equipped with quality imaging systems.
Join us on October 12, 2016 for a free webinar, Fundamentals of Image Quality Testing, presented by Imatest's Director of Engineering, Henry Koren.