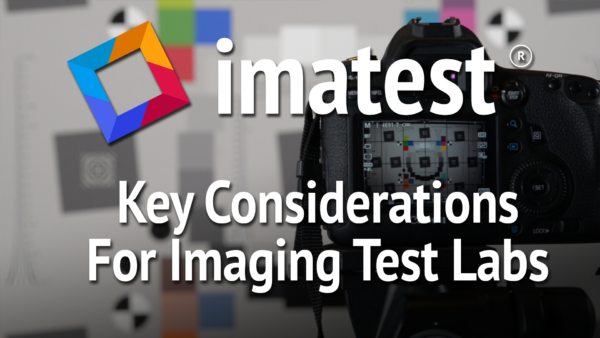 Key Considerations For Imaging Test Labs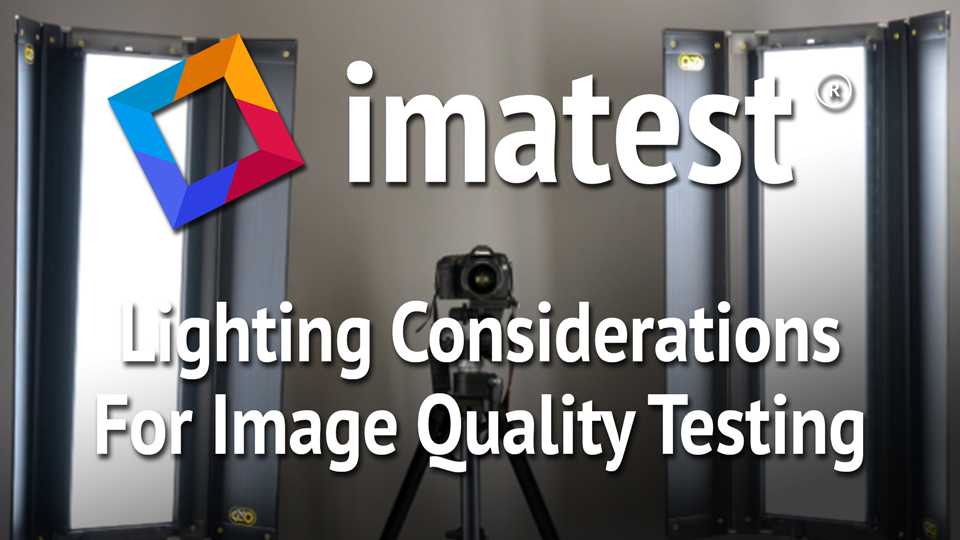 Lighting Considerations For Image Quality Testing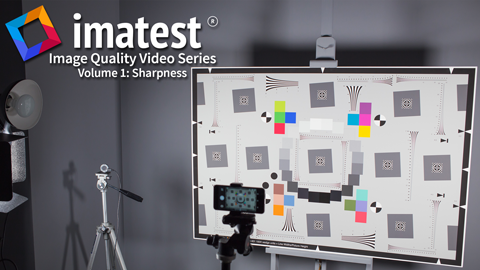 Image Quality Video Series: Sharpness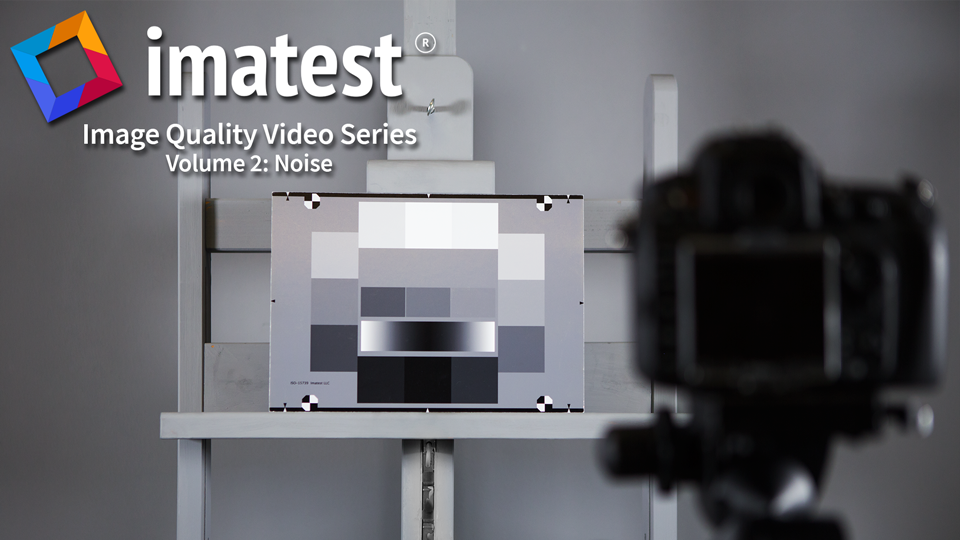 Image Quality Video Series: Noise
Jan 16, 2017
---
The highest quality images are created by optimizing many key image quality factors. Noise is an undesirable random spatial variation, visible as grain in film, or pixel level fluctuation in digital images. Learn how Noise effects your camera system using Imatest.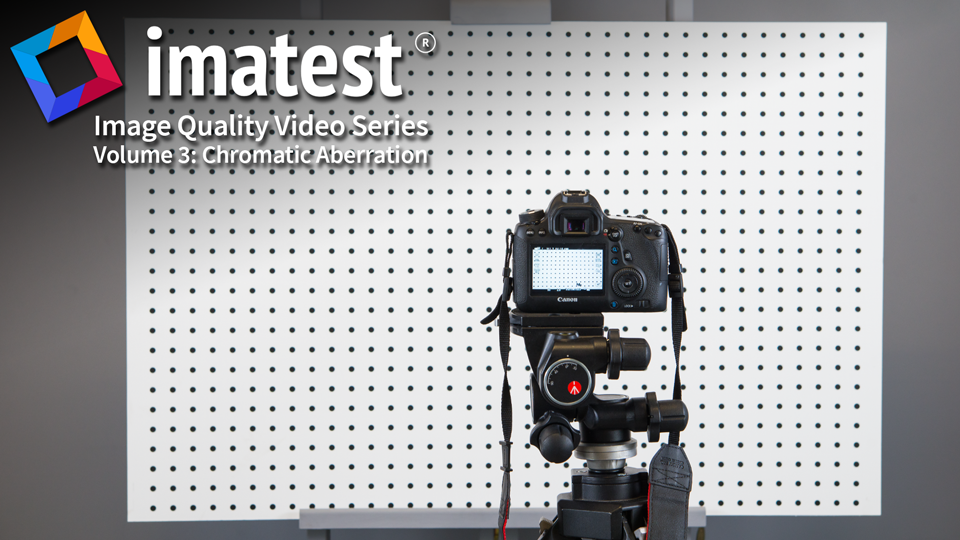 Image Quality Video Series: Chromatic Aberration
Feb 21, 2017
---
Lateral chromatic aberration (LCA), AKA lateral chromatic displacement (LCD) and "color fringing", is a lens aberration that causes colors to focus at different distances from the image center. It is most visible near the corners of images. In this video, we will explain the techniques used to measure for LCA.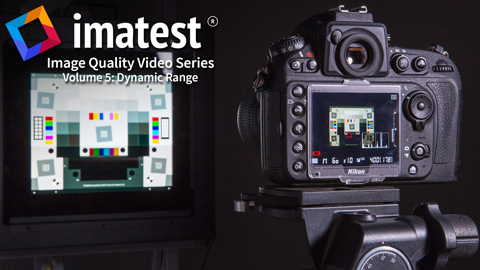 Image Quality Video Series: Dynamic Range
May 16, 2017
---
The highest quality images are produced by optimizing many key factors. Dynamic Range is characterized by the ratio between the highest light intensity that a camera system can capture and the darkest tones that become indistinguishable from noise. Dynamic range measurements are useful for optimizing system performance and for verifying camera design specifications. Informed consumers seek camera systems with superior dynamic range, which can capture information in dark shadows while maintaining detail in brighter areas.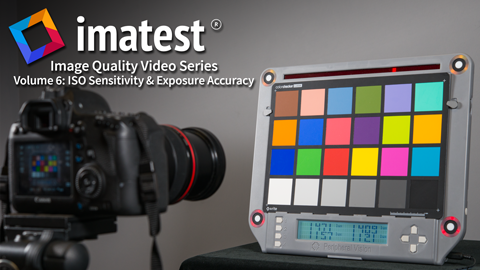 Image Quality Video Series: ISO Sensitivity & Exposure Accuracy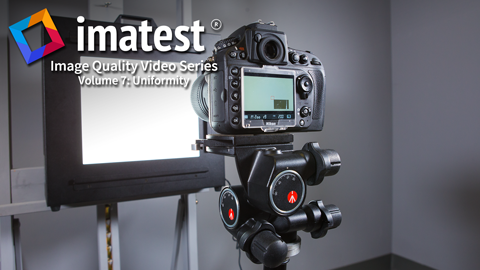 Image Quality Video Series: Uniformity
Jun 9, 2017
---
Lens shading, Light falloff & Vignetting: Where your image becomes darker the further you get from the center. This is due to the radial nature of the lens which collects more light in the center. It can be particularly strong with wide angle lenses. Non-uniformity is also caused by the chief ray angle of light incident to the sensor which has reduced quantum efficiency as the angle increases.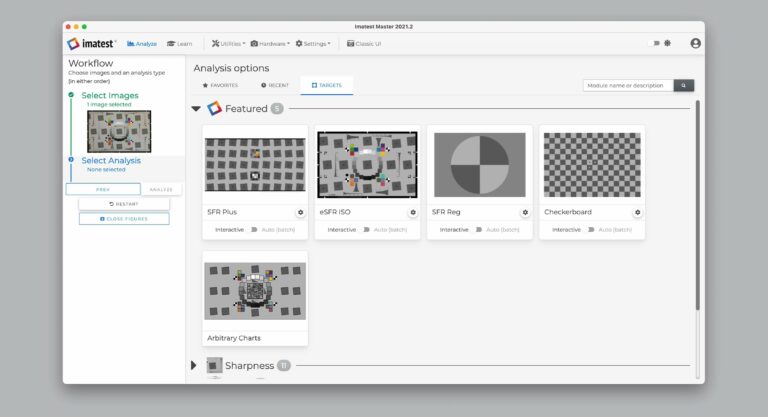 November 17, 2021
---

Imatest 2021.2 released November 17, 2021, includes a New Main Window User Interface, File First workflow, Dark Mode, and more. See www.imatest.com/2021.2.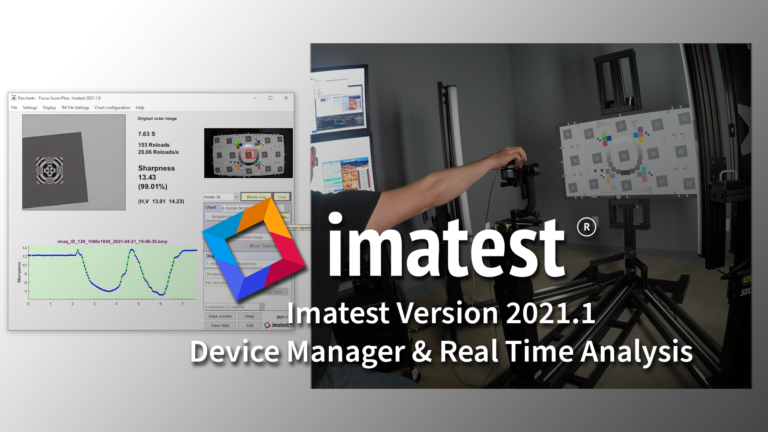 APR 22, 2021
---

Imatest Master can perform real time analysis of a wide range of camera systems. For more about our latest release, see www.imatest.com/2021.1.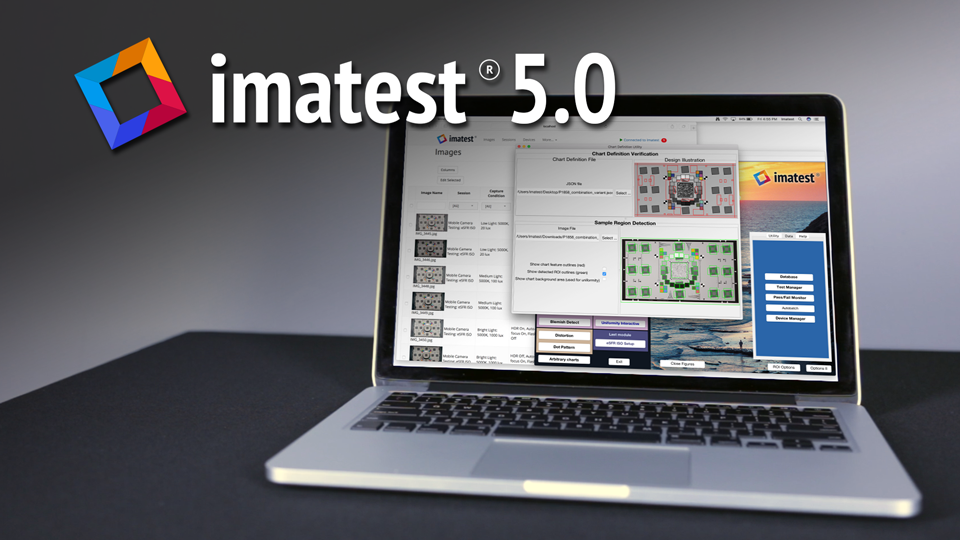 Sep 19, 2017
---

Imatest 5.0 includes groundbreaking additions to expand the capabilities of your image quality testing pipeline. For more information, please visit www.imatest.com/imatest-5-0.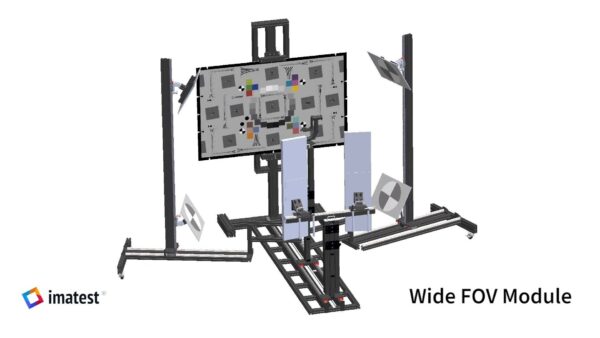 Modular Test Stand Animation
Aug 10, 2020
---

The Imatest Reflective Module is designed to work with Kino Flo Freestyle 31 lights and reflective charts. High-quality hardware allows you to effortlessly position lights, while angle and position markers indicate light bank locations for repeatable lighting configurations. The Imatest Wide Field of View (WFOV) Module provides an easy to use platform for testing sharpness of cameras with FOV up to 200 degrees.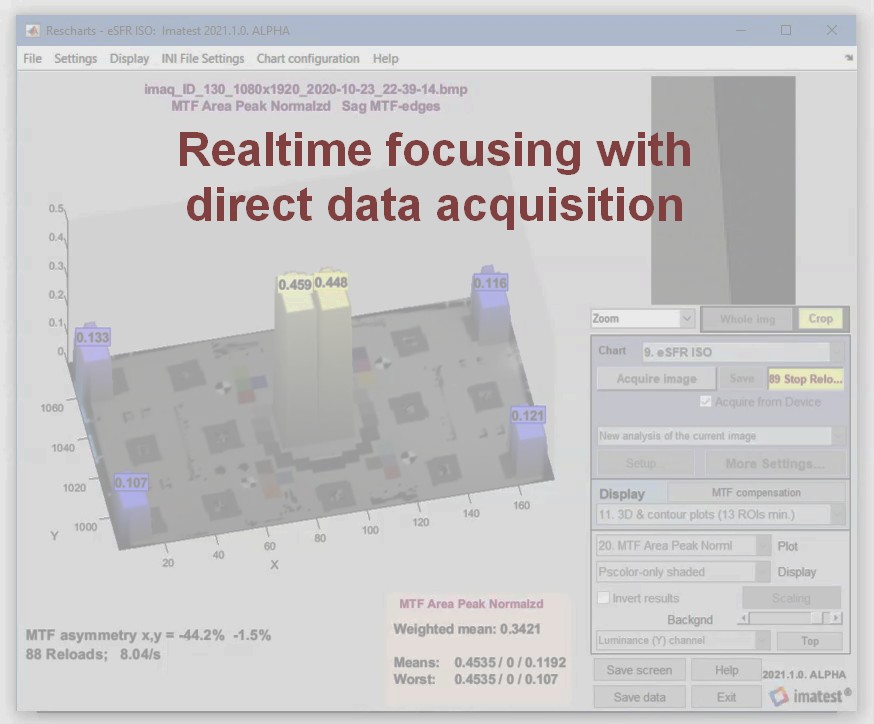 Realtime focusing with direct data acquisition
Nov 6, 2020
---

Imatest 2020.2 has been sped up to the point where real-time focusing is possible.
A brief explanation is required. Broadly speaking, Imatest can analyze images from two types of source.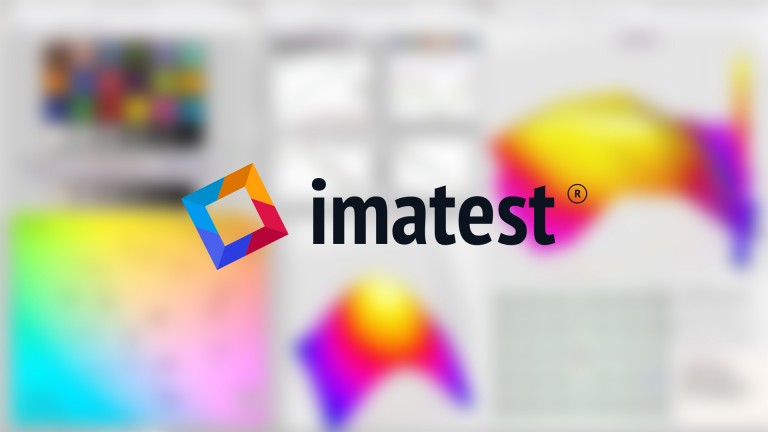 Sept. 19, 2017
---

Used by hundreds of companies for developing and testing digital cameras and imaging systems, Imatest Master allows users to test for a variety of image quality factors, including the ability to analyze over 30 test charts with different features for measuring color, tone, sharpness and more.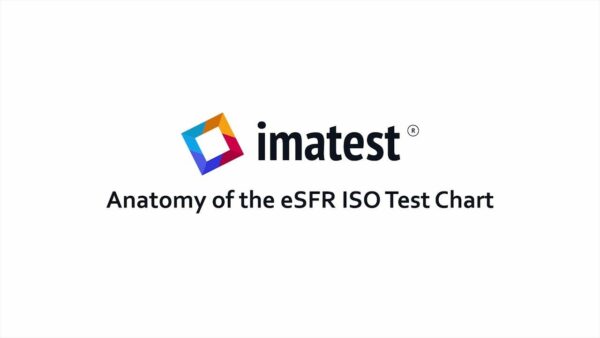 Anatomy of the eSFR ISO Test Chart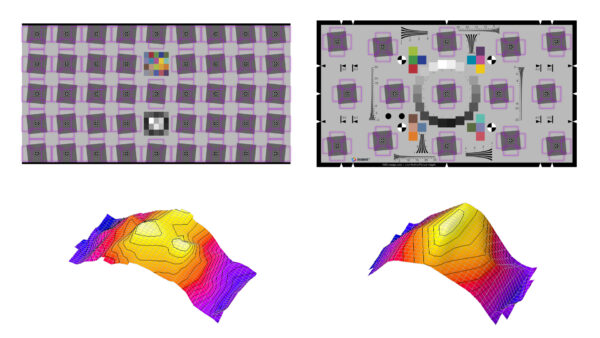 Selecting a Chart: SFRplus and eSFR ISO
Apr 1, 2015
---

The key differences between SFRplus and eSFR ISO are outlined. These charts share many similar features and can be used to perform many similar image quality analyses. Understanding which features differ will help you select the most appropriate test chart to analyze your imaging systems.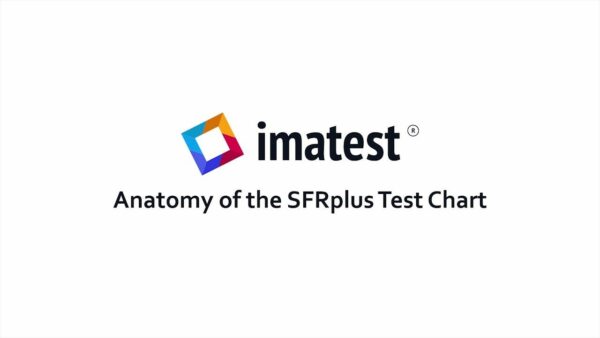 Anatomy of the SFRplus Test Chart
Feb 2, 2015
---

The elements of the SFRplus test chart enable calculation of a number of image quality factors, including but not limited to spatial frequency response, geometric distortion, tilt, chromatic aberration, tonal response, gamma, white balance and color reproduction.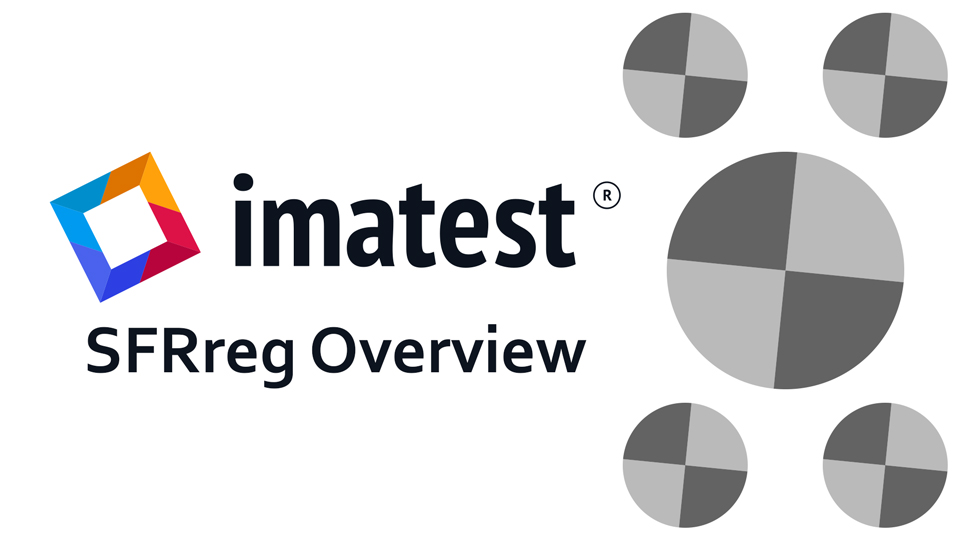 Sep 16, 2015
---

Imatest SFRreg performs highly automated measurements of sharpness and lateral chromatic aberration from images that contain registration mark patterns: circles with two light and two dark quadrants. Unlike standard test charts, these patterns do not need to be located on a flat surface.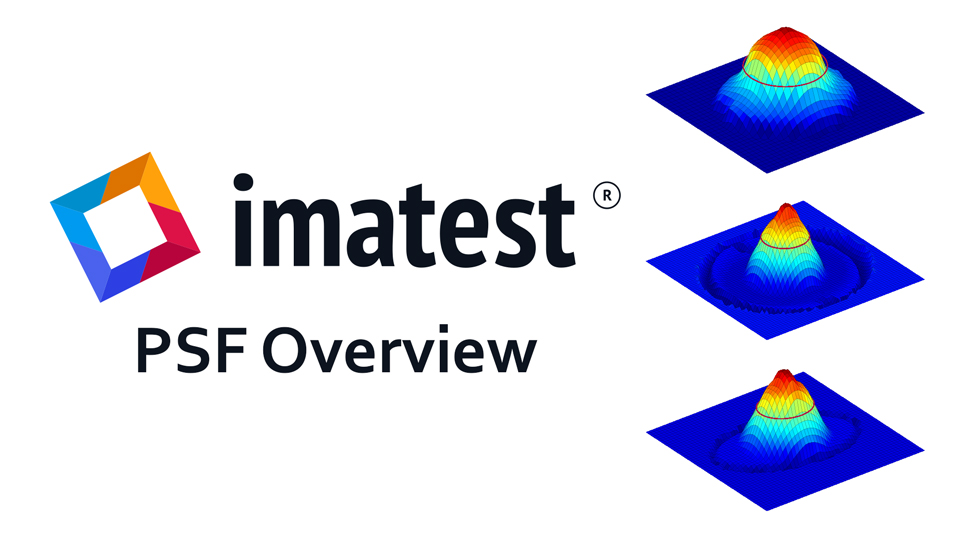 Point Spread Function (PSF) Overview
Sep 16, 2015
---

Imatest can estimate an imaging system's loss of resolution (point spread function) using a pair of collocated, near-sagittal and tangential slanted edges on SFRplus, eSFR ISO and SFRreg targets. Easily analyze and improve sharpness, chromatic aberration, and distortion measurements.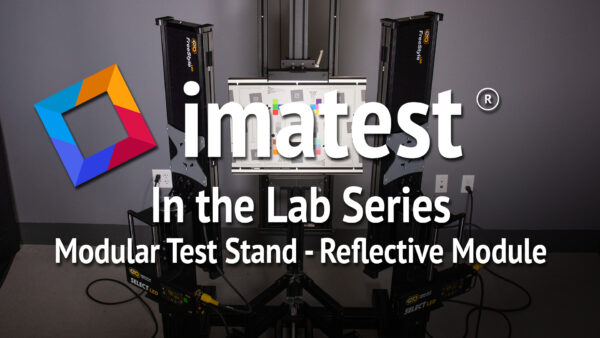 October 29, 2020
---
The WFOV Module is an add-on to Imatest's Modular Test Stand and provides an easy-to use-platform for sharpness testing of wide FOV camera systems up to 200º. The fixture integrates with the Kino Flo LED Freestyle 31 lights. Here we walk you through how to implement this system in your lab setting. Learn More.
Measuring and Reading IQ Plots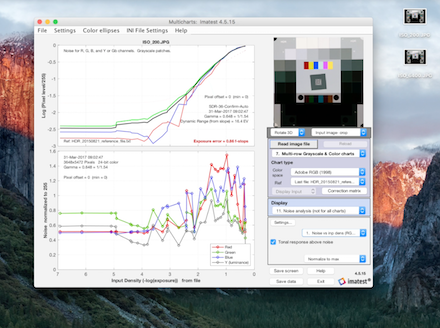 Reading Imatest Plots 2: Noise and Dynamic Range
Mar 2, 2020
---
Reading an Imatest Plot Episode 2: Noise and Dynamic Range
Webinars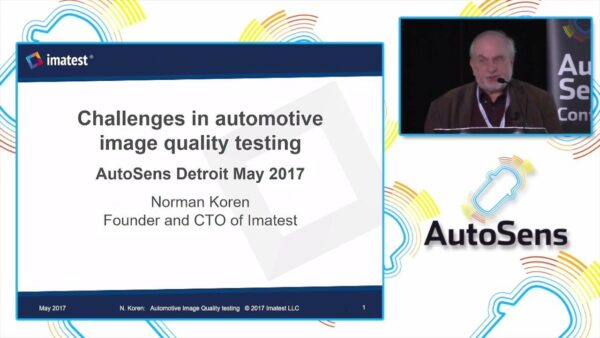 Challenges in Automotive Image Quality Testing
Jun 19, 2017
---
Imatest's Norman Koren presents his vision for challenges in automotive image quality testing.
This video was previously recorded at Autosens Detroit 2017, the world's leading vehicle perception conference. See more more at www.auto-sens.com.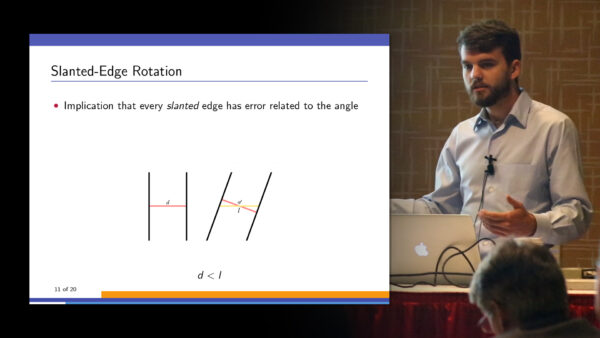 A Study of Slanted-Edge MTF Stability and Repeatability
Feb 17, 2015
---
The slanted-edge method of measuring the spatial frequency response (SFR) as an approximation of the modulation transfer function (MTF) has become a well known and widely used image quality testing method over the last 10 years. This method has been adopted by multiple international standards including ISO and IEEE. Nearly every commercially available image quality testing software includes the slanted-edge method.
Speeding up videos
A Video Speed Controller is available on the chrome web store.
If you prefer to use the console, follow these steps for Google Chrome:
Open the video.
Hit ctrl+shift+I or right-click then choose Inspect to view the HTML for the web page. It will show up to the right of the video.
Click on the Console tab.
To increase the playback speed, for example by 1.5×, type "document.querySelector('video').playbackRate = 1.5;" then press Enter.
To return to normal speed, enter the same command with the playbackRate set to 1: "document.querySelector('video').playbackRate = 1;".
(You can copy and paste the text in steps 4 and 5.)