Using the right equipment is essential to manufacturing products successfully. Automated test machines help maximize your workspace, reduce human error, and increase production speed and precision. The right test machines support best manufacturing practices that enable companies to produce high-quality imaging systems.
Imatest IT on the Production Line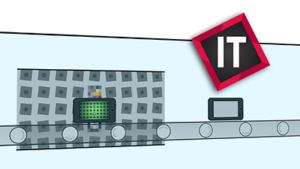 Imatest IT integrates key module functionality with custom testing programs. With this solution, you can quickly test products on the production line to maintain quality standards. At Imatest, we make communicating data across the supply chain easier since tests and results are standardized. Imatest IT can also balance yield with image quality with its pass/fail feature.
Imatest IT integrates with several production line technologies to test components and assemblies, including:
Sensor and Module Level Tests including blemish, defective pixels, lens shading, and color uniformity measurements that can be used for color calibration.
Active Alignment involving 3-D optimization of the lens position relative to the sensor in order to maximize the system  MTF.
End-of-line Test Solutions to verify successful module and device assembly.
Imatest software testing equipment solutions promote accurate, repeatable measurements with image quality tests that include:
Short and hyperfocal focus testing for maximizing DoF.
Distortion, Geometric tilt, rotation and FoV tests
Autofocus VCM functionality verification
Dark noise
Sensor Blemish detection
Defect pixel and defect pixel cluster detection
Relative illumination
Color uniformity with different illuminations
Sensor orientation & color filter checks
OIS subsystem test