The License advisor can help to diagnose problems with the Imatest license activation system.
These problems may include:
Installation ID all zeros
Installation ID changes each run
Crash on license check
License won't install
If you are using Imatest 5.1 and a Nalpeiron V10 license you can enable license diagnostics mode by editing your imatest INI and setting  [imatest] license_debug = 1. 

The output will be appended to a *.log file in your licensing directory (C:\ProgramData\Imatest\license on Windows, /Library/Application Support/Imatest on Mac). 
For imatest 5.0 and below:  Download Imatest License Diagnostics
After downloading, copy ImatestLicenseDiagnostics.exe to the Imatest program files folder, such as c:\program files (x86)\Imatest\Master
Run the file ImatestLicenseDiagnostics.exe with administrator access and accept the security notice: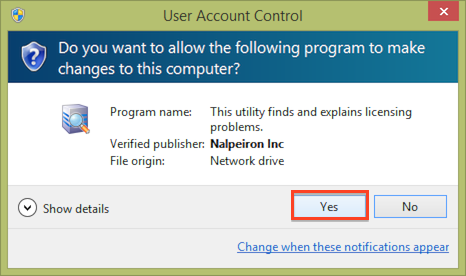 The report will be generated, select Exit then Yes to save the results.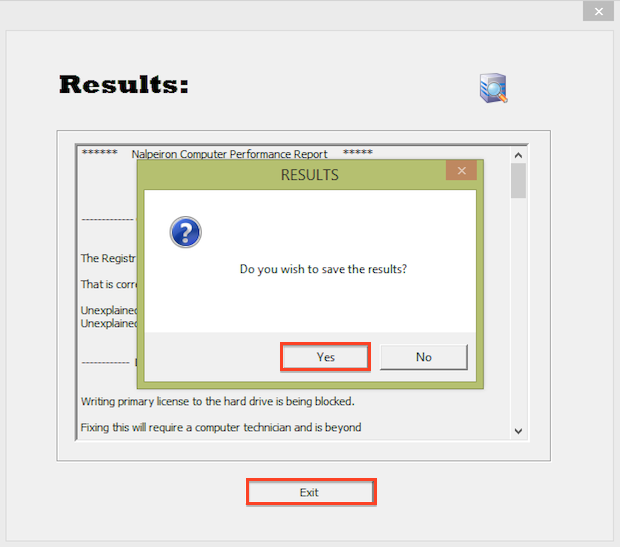 The report will be saved as C:\ComputerResults.txt
Send this as an attachment in an email to support@imatest.com
An example of of what might be seen in a system that is working properly can be seen below:
****** Nalpeiron Computer Performance Report *****
(C) Nalpeiron 2014
————- Checking Service Installation ————-
The Registry listed service path is: C:\WINDOWS\SysWOW64\nlssrv32.exe.
That is correct.
Unexplained Service Start Code: 1062
Unexplained Service Stop Code: 0
———— Looking For Existing Licenses ————
Writing primary license to the hard drive is being blocked.
Fixing this will require a computer technician and is beyond
the scope of Nalpeiron technical support agreements.
Secondary license information was found.
———— Testing License Read/Write ————
Windows reports that secondary license type files write properly.
Windows reports that secondary license type files read properly.
———— Collecting Computer Information ————
This is being run in a virtual environment.
Windows 8 or Windows Server 2012 64 bit OS
Windows is on drive: C
Windows drive number is: 0
————– Hard Drive SN Results ———————-
The hard drive serial number on this computer is: C6PHRNG4QEBMZ17REBQC.
Hard drive serial number checked is: C6PHRNG4QEBMZ1
Secondary License Table HD SN is: C6PHRNG4QEBMZ17REBQC
Hard Drive SN Stored In Registry: C6PHRNG4QEBMZ17REBQC
—————– Computer ID Results: ——————–
Primary License Computer ID is: Nothing to store
Secondary License Computer ID is: 13630489577382476690
Secondary License Validation ID is: 1363048957
The list of actual short Computer IDs are:
1363048957
1363048957
————– Test Internet Activate Capability: ———
Product activation through the Internet will not be a problem,
unless the license number is invalid, has already been used,
there is some other license management issue, or the Computer ID
is invalid.
—————— Test Read And Write To HD: ————–
Hard drive reads properly.
Hard drive writes properly.
—————————————————————–
License conflict automatically resolved on: 5-30-2013
—————————————————————–
———- DLL, License, & Service Information ———
** The DLL is accessing the license perfectly. NO ERRORS. **
This product has an Unlimited License.
The DRM DLL is returning Computer ID: 13630489577382476690
The filechck.dll version is: 7.3.3
The service version is: 7.3.5
———- License Management Report: ———-
The activation data relates to the last activation of ANY
Nalpeiron license, therefore you need to check the code
is one of yours when considering this data.
Last Product Activated successfully on 2-10-2014
License Number used: 2848**************
————–
Last product license was successfully returned on 2-10-2014
————–
No short key unlocking attempt attempted
————–
No long key unlocking attempt attempted
————–
License removal was not attempted
————–
License Certificates successfully activated on 10-16-2013
————–
License Export was not Attempted
——————- End of Report ——————
Computer Performance Diagnostic 2.7.5