Imatest will attend AutoSens in Brussels on September 17-19, 2019. AutoSens is a 3-day workshop, conference, and exhibition advancing the education for and development of vehicle perception technology. It brings together over a thousand minds in vehicle perception, ADAS, and autonomous vehicles twice a year—in Detroit, Michigan USA in May, and Brussels, Belgium in September. Each event includes conference sessions, discussions, collaborations, debates, networking, business meetings, interactive learning, autonomous driving demonstrations, and technology exhibition showcasing.
Imatest is advancing autonomous technology with software, equipment, and expertise around image quality. Our engineers are actively involved in defining automotive imaging standards as part of the IEEE-SA P2020 working group. P2020's goal is to resolve the current ambiguity around automotive imaging standards by defining a coherent set of key performance indicators including LED flicker susceptibility and Contrast Detection Probability. The standard will provide clear camera performance test definitions so companies can design highly effective and safe autonomous vehicle vision systems. Imatest is producing software features and equipment to meet imaging standards and expectations as well as enable reliable and efficient testing for machine-vision and human-vision automotive applications.
Norman Koren, founder and CTO, and Ian Longton, Imaging Science Engineer, will be at the Brussels exposition to share information about our new and upcoming products and solutions for testing and calibrating automotive camera imaging systems. Stop by the Imatest booth #23 to learn more about our:
AutoSens is taking place at the AutoWorld Museum Brussels: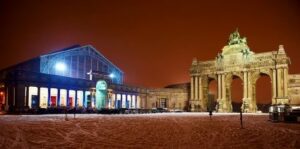 Parc du Cinquantenaire 11 1000 Brussels Belgium
+32 2 736.41.65
http://www.autoworld.be/home
September 17-19, 2019

We hope to see you there! Make sure to stop by the Imatest booth #23. As always, contact us if you have any questions about our products or would like to speak to someone about our image quality testing solutions.