Obtain and photograph chart –  Lighting – Distance – Exposure – Tips – Links
Imatest Checkerboard performs highly automated measurements of sharpness (expressed as Spatial Frequency Response (SFR), Lateral Chromatic Aberration, and optical distortion from images of checkerboard patterns (with a recommended tilt angle of ~5-8 degrees for sharpness measurements).
The primary advantages of Checkerboard are:
Compared to Imatest's other automatically-detected sharpness modules:  It is relatively insensitive to framing. You can zoom in or out as much as you like, as long as there are detectable corner features. 
Compared to the Distortion (legacy) module:  It works with highly-distorted (fisheye lens) images. Calculations are more accurate, and it contains all results available in Distortion.
The disadvantages of Checkerboard are:
Detection must include complete rows and columns of squares, limiting the detected regions.
Significant optical aberrations, blooming, or blemishes may cause the corner points to be missed, resulting in a loss of analysis area. (Distortion has similar issues.)
Chart detection is slower than SFRplus and eSFR ISO, especially for large or strongly distorted images. (This is a Matlab issue that might be fixed in the future.)
Some display images with visible pixel patterns can cause the detection algorithm to go into a (near) infinite loop.
Details of the regions to be analyzed are based on user-entered criteria (similar to SFRplus, eSFR ISO, or SFRreg, which it closely resembles).
Sharpness is derived from light/dark edges in the checkerboard pattern (which should be tilted), as described in Sharpness: What is it and how is it measured?
Related pages
Using Rescharts slanted-edge modules Part 2 — Selecting files – Setup window – ROI selection & analysis – Edge ID files – More settings window  – Secondary readout – Settings area – Gamma – Gamma from chart contrast ratio – Auto mode window – Warnings – Clipping – Summary 
Checkerboard operates in two modes.
Interactive/setup mode (run by pressing Rescharts in the

Imatest

main window, then selecting 11. Checkerboard, or by run by pressing the Interactive/Postprocessors dropdown menu, then selecting Checkerboard setup), allows you to select settings and interactively examine results in detail. Saved settings are used for Auto Mode.
Auto mode (run by pressing the Fixed modules dropdown menu in the Imatest main window, then selecting Checkerboard— a button may be added later), runs automatically with no additional user input. ROIs are located automatically based on settings saved from the interactive/setup mode. This allows images of different sizes and framing to be analyzed with no change of settings. Auto mode works with large batches of files, and is especially useful for automated testing, where framing may vary from image to image.
This document introduces Checkerboard and explains how to obtain and photograph the chart.  Part 2 shows how to run eSFR ISO interactively inside Rescharts and how to save settings for automated runs. Part 3 and Part 4 illustrates the results for slanted-edge and other measurements, respectively.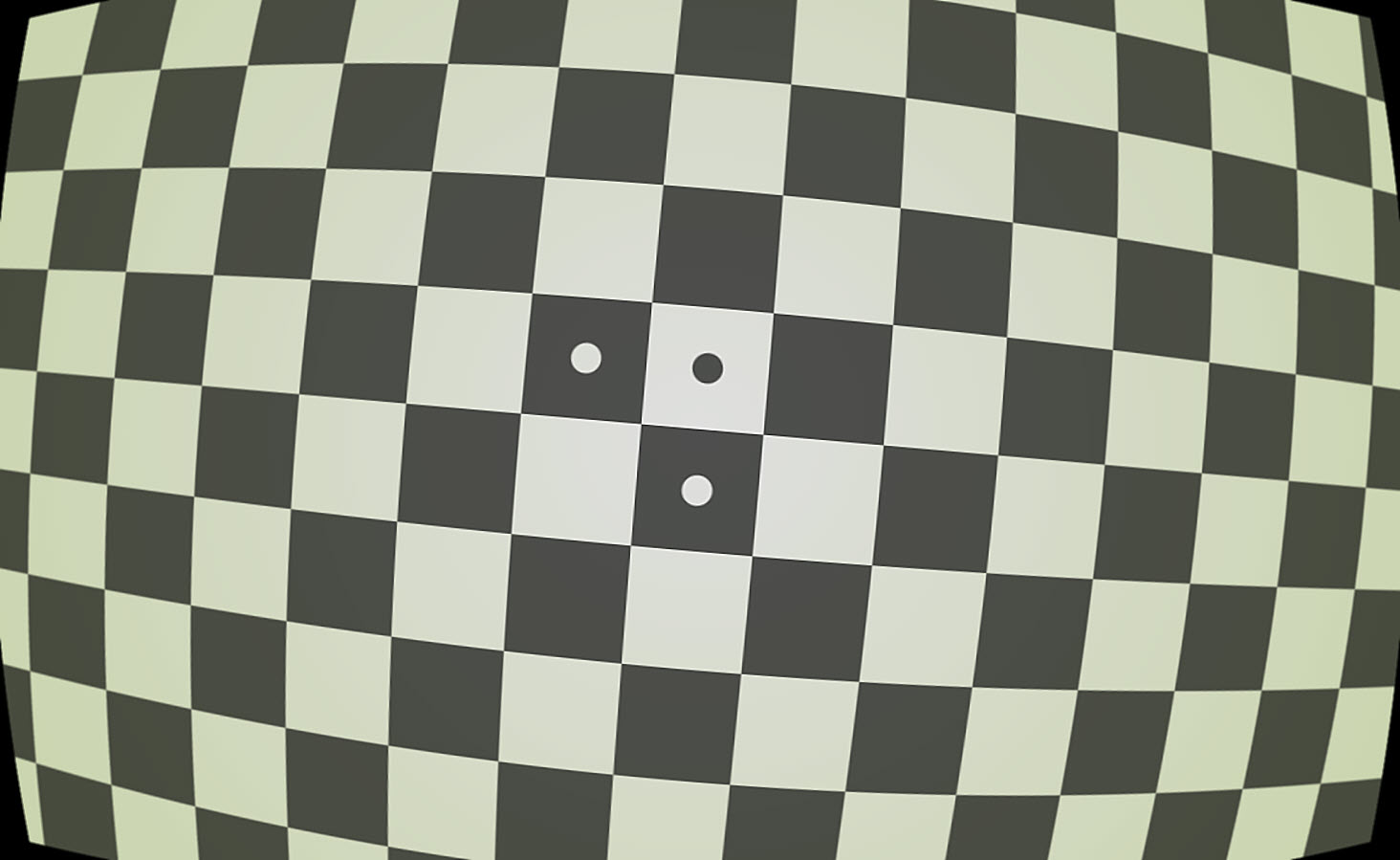 Checkerboard image (simulated): Click on image to download for analysis.