professional lighting solutions available from the Imatest store, and
how to build a low-cost test lab that is well-suited to Imatest Studio users:  individual photographers who want to test the quality of their cameras and lenses.  It is relatively portable and also useful for photographing artwork.
Companies and organizations who use Imatest Master/IS may need a more professional test lab setup. Imatest partners with companies who offer professional lab setup services. 
Substitutions can be made for most of the parts listed below.
Lighting 
Professional lighting

Kino Flo FreeStyle 31 LED DMX Lighting System

Kino Flo FreeStyle 31 LED lights have 8.5×37″ (21.5 x 94cm) panels that make them ideal for providing uniform glare-free illumination for Imatest's full range of test charts, up to 44×78″ (111.7 x 198cm). This product is sold as a set of two lights with 30″ stands.

Color temperature range can be varied from 2700K tungsten to 6500K daylight, and is dimmable over a 150:1 range. CRI (Color Rendering Index) = 95 is very high.

The FreeStyle 31 LED comes with standard DMX and wireless DMX (Lumen Radio®), 24VDC input, and universal voltage input 100-240VAC (1.25 Amps at 120VAC).

  

The IQL Reflective Chart Lighting System for Imatest professional lab setups covers up to 40×60 inches (100×150 cm) with good uniformity. Multi-source luminaires (D65, CWF, Incandescent "A").

Fixture. Multiple light sources & dimmers. 3 color temperatures & a variety of intensity levels depending on the positioning of the lights relative to the chart or scene.

Lamps. 3 light sources (substitutions available):

D65 daylight (F32T8/CM65 lamps CRI of 94+)
CWF 4150K (F34T12/CWF lamps CRI of 62)
Incandescent Illuminant "A"

For more info: testing@imatest.com
Lightboxes

A light box is needed for transmissive charts, which are generally smaller than reflective charts and can be particularly useful in manufacturing environments. Transmissive film charts have much higher resolution than inkjet charts.The GLX-16 fluorescent light box is shown on the right with an SFRplus chart.See our range of lightbox options in the Equipment Section of the Imatest Store.

Our best available lightbox is the Imatest LED Lightbox (shown on the right) available from the Imatest store. It has several advantages over other lightboxes.

Much more uniform illumination.
High quality spectral response. The standard version allows you to choose between 3100K, 4100, 5100K, 5500, 6500, and NIR color temperatures (850nm or 940nm) with a Color Rendering Index (CRI) of 97. Other color temperatures are available as options.
Intensity is adjustable via a hardware knob, Bluetooth, or USB, from 30-10,000 lux: a range of over 300:1, making it suitable for measurements from near-daylight to extremely dim light. Options are available with a minimum of 1 lux and a maximum of 100,000 lux. 
Low cost lighting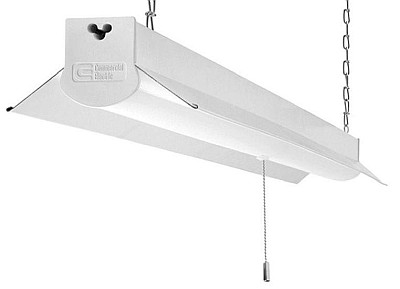 As of 2018, widely-available LED shop lights provide an excellent solution for Imatest Studio customers whose primary interest is testing camera and lens sharpness. They require little assembly, unlike our older low cost recommendation. You just need to mount them. The disadvantages (compared to professional lighting solutions) is that they're difficult to dim (not an issue if you're just testing camera/lens sharpness), have just one color temperature (typically 4000K) and have a relatively low Color Rendering Indices (around 80; still better than most fluorescents). Cheap dimmers should be avoided because they tend to have flicker.
Here are some examples (we don't call them recommendations because there are so many similar lights to choose from).
1000bulbs.com has a large lighting selection of shop lights. This page has several examples. An attractive lighting fixture is ~4 feet (1.2 meters) long, 5000 Lumens (bright) output, 4000K, CRI = 80.
Local stores, like Home Depot and Lowe's in the US, usually have a good selection. The image on the right shows a 4 foot (~1.2 meter) 36W light with Color Temperature = 4000K, CRI = 84 (quite good), and 3200 Lumens output, available from Home Depot. (You wouldn't need the chain.) It's just one of many.

Older Low cost DIY lighting (no longer recommended)
This system, which provided about 250 lux of even lighting over large (40×60 inch = 1×1.5 meters) charts is no longer recommended. It is not bright enough for professional labs, and it changes color temperature when dimmed. It used a track lighting system that took SoLux 4700K (near daylight) 12V MR16 halogen lamps, which use long-lasting built-in dichroic filters. MR16 track lights, formerly available at local hardware outlets such as Home Depot, have mostly been discontinued in favor of less expensive products. 
Lamps. We used 6 SoLux 50W 4700K/36 degree MR16 bulbs, along with 6 Plano Convex diffusers, for even illumination. The diffusers were mounted in front of the lamps (rightmost image), in place of the clear glass supplied with the track lighting kit. "T" braces with self-adhesive felt pads were added to the sides of the lamp fixtures to block stray light from reaching the lens (rightmost image). SoLux halogen bulbs are inexpensive and produce extremely high quality near-daylight 4700K illumination, with a CRI (Color Rendering Index) of 98 out of 100.
Stand. The Radio Shack 33-335 folding microphone stand is simple, lightweight, sturdy, and cheap. RIP, Radio Shack.

Easel
The Mabef M-10 easel was chosen because it was sturdy, could be adjusted vertically (checked with a small level), had just the right features, and was on display at a local art supply store. A self-adhesive felt pad on the bottom of the upper clamp helps secure targets.

Light measurement
The BK Precision 615 Light meter (Lux meter) is an excellent low-cost instrument (about $100 USD) for measuring incident light (illuminance). It has a flat diffuser and photopic response (similar to the human eye in bright light). It is particularly useful for measuring evenness of illumination. We purchased ours from Action Electronics, which offers several alternative choices. The BK was chosen over similar Easyview meters because it has a flat (rather than hemispheric) diffuser that better represents the geometry of the flat targets. Readings can be somewhat slow, with settling times around 3-5 seconds.
Miscellaneous

Several additional items can come in handy: a small level, a flashlight (LED models are cool), rulers, a few clamps, etc. A bubble level mounted on a camera's accessory shoe can be particularly helpful. Irwin Quick-Grip Handi-Clamps work well for attaching targets to the easel. 

 A laser distance measurer is very convenient for measuring precise distances— much more accurate than the measuring tape shown on the right. You can find them for under $100 USD at home improvement chains like Home Depot in the US.