Table of Contents
Image quality — Sharpness — Other IQ factors — IQ Utilities —  Getting started —
Imatest Instructions – general — Troubleshooting —  Knowledge Base highlights —
Sharpness modules — Tone, Color, Noise & Dynamic Range modules — Spatial & Uniformity modules —
Miscellaneous modules and utilities — Industrial Testing edition — Appendix
Image Quality
General

— Introduction to Image Quality Factors
Image quality factors – Overview and Imatest measurements
Introduction – Summary table – Image quality factors – Sharpness – Noise – Dynamic range – Color accuracy – Distortion – Uniformity – Lateral chromatic aberration – Veiling glare – Color moire – Software artifacts – Data compression – Printer quality factors – Print Dmax – Print color gamut
Sharpness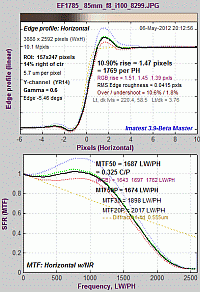 Sharpness – What is it and how is it measured?
Introduction – MTF – MTF equation – Slanted-edge measurements – Why a slanted edge? – MTF measurement matrix – Spatial frequency units – Summary metrics – Results – Noise reduction – Diffraction & Optimum aperture – Interpreting MTF50 – Auto-focus – Calculation details – Imatest vs. ISO calculation – Links
Sharpening – and Standardized Sharpening for comparing cameras
Introduction – Examples – Standardized sharpening – Oversharpening and Undersharpening – Examples – Unsharp masking – Links
Slanted-edge versus Siemens Star – A comparison of sensitivity to signal processing
Introduction – Images – Raw results – Slanted-edge results – Sinusoidal (Log F-Contrast and Siemens star) results – Extreme sharpening – Summary – Conclusions
Slanted-edge versus Siemens Star, Part 2 – Results for four additional cameras
Slanted-edge measurement consistency and repeatability – comparing different ISO speeds and ROI sizes. Incomplete, but still useful.
Validating the Imatest slanted-edge calculation
LSF (Line Spread Function) correction factor for slanted-edge MTF measurements  for Imatest 4.1.2+
Compensating camera MTF measurements for chart and sensor MTF (Imatest 5.1+)
Introduction – Calculation – MTF compensation files – Applying the compensation – Lens MTF measurements
Other Image Quality Factors
Imatest Instructions — Getting started
Please note:

  Each

Imatest

license can be activated on only one computer at a time, but the activation can be easily moved between computers, especially if they're online. You can install

Imatest

– and keep it installed– on as many computers as you like (Macintosh as well as Windows– your license works for both; you never have to uninstall it). To move the activation to another computer, you'll need to deactivate it on the old computer then activate it on the new one, following the instructions above. You may do this as often as you like.
Imatest Instructions – general
Knowledge Base highlights –

Links to articles for troubleshooting, activation, and general advice on operation.



There are many more links like these on the Knowledge Base.
Tone, color, and spatial modules
Tone, Color, Noise, and Dynamic Range
Miscellaneous modules and utilities
Appendix
FAQ
– Frequently Asked Questions
XML
is no longer recommended. JSON is recommended for output to be processed by external programs.
License
–

The Imatest End User License Agreement (EULA)