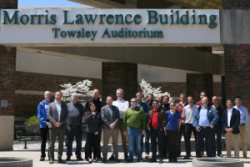 Imatest sent two engineers to the IEEE P2020 Automotive Imaging Quality face-to-face meeting in Dusseldorf, Germany this past February in 2019. The IEEE P2020 standard, which is still in development, aims to define KPIs and test procedures to address the many challenges relevant (and often unique) to automotive imaging.
The group hopes to publish the standard in the year 2020 (no relation to the standard's identifying number) as a unifying guideline for developers of autonomous driving systems. Most driver-assist and autonomous-driving systems rely heavily on cameras despite the significant press other imaging modalities, such as LIDAR, have received. As Level 3, 4, and 5 autonomous vehicles start to come on the road in 2020 and beyond, it is vital that these systems have an agreed-upon set of rigorous performance metrics.
Imatest is playing a leading role in validating metrics and developing test methodologies for the group. Our expertise in digital photographic technology is sought as a reference point in all three of the standard's main subgroup topics: machine vision, human viewing (for things like surround cameras and mirror replacement systems), and flicker caused by interaction between image sensors and LED lighting.
New participants interested in this domain are invited to join the next face-to-face meeting in, tentatively in Detroit in May (exact date TBD). This white paper released last fall describes the context and purpose of the group.