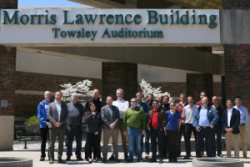 Imatest attended the P2020 meeting on May 13 and 14, 2019 in Ann Arbor, Michigan. Paul Romancyzk, PhD., Senior Imaging Scientist, and Rob Sumner, Lead Engineer, represented Imatest. Paul co-led the discussion on Color Separation within the Image Quality for Machine Vision subgroup.
Imatest was among many industry leaders to attend the working group on automotive imaging standards. P2020 was established in order to address the considerable ambiguity in the measuring of image quality of automotive imaging systems, both for human viewing and computer vision systems.
Image quality plays a crucial role in both automotive viewing and automotive computer vision applications, and today's image evaluation approaches do not necessarily meet the needs of such applications. Currently, there is not a consistent approach to measuring automotive image quality within the industry
The IEEE P2020 standard aims to fix these deficiencies by connecting industry leaders at all levels of the automotive supply chain, identifying gaps in existing standards, and working to address these by creating a coherent set of key performance indicators by which camera systems and components may be evaluated in a manner consistent with their intended use.
P2020 meetings are held regularly in both Michigan and Germany, considered global centers of automotive technology. If you're interested in joining the next meeting, see the IEEE website for upcoming meeting locations.