$400.00 – $11,850.00
This package combines everything you need to integrate the Thouslite Tunable LEDCube lights and adjustable stands into your test lab:
LEDCube spectrally tunable lights. Select quantity of 2, 4 or 6 lights total (1, 2 or 3 lights per side), or 1 if not using the stand. Lead time 3-4 weeks.
Controller. Set quantity to 1 Controller for every two LEDCube lights.
Thouslite Navigator software
The Imatest LEDCube Fixture (set of two) which can accommodate 1, 2 or 3 LEDCube lights per side. Lead time approx. 14 weeks.
Your choice of the Jeti Spectrometer scb 1211UV-2 or the Konica Minolta CL-500A Illuminance Spectrophotometer
The Thouslite LEDCube is a highly tunable, reflective light source. Reproduce any phase of daylight with the highest quality Color Rendering Index (CRI: 99) and Metamerism Index (MI: Grade A). Simulate various lighting environments to evaluate the performance of your camera or sensors, including tests for auto white balance, color rendering, auto exposure, etc.
Description
This package combines everything you need to integrate the Thouslite LEDCubes into your test lab:
Thouslite LEDCube-15 Features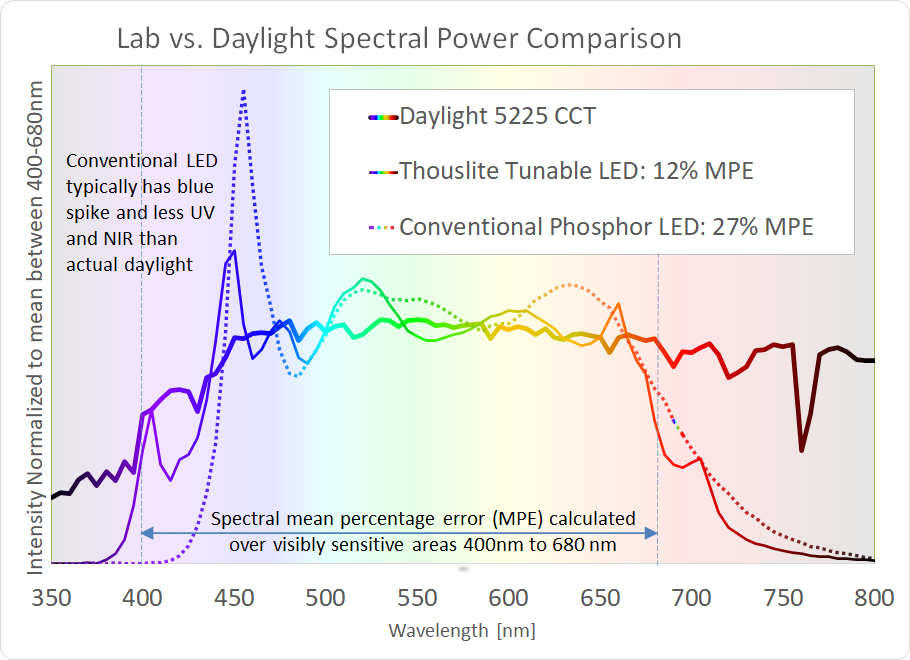 ● Reproduce high quality daylight illuminant with Color Rendering Index (CIE Ra) 99 and Metamerism Index (MI) Grade A
● Blackbody locus simulator to accurately produce a range of sources from tungsten to daylight varying Correlated Color Temperature (CCT) from 2000K to 20000K with tunable CIE Ra 0~100 and tunable Duv -0.02~+0.02. One device reproduces all light sources.
● SPD match to accurately reproduce any measured or imported SPD to record any light you want. It is easy to spread SPD files between different locations for light communication
● High light intensity output and luminance adjustable High power SMD LEDs, together with the software, guarantees high light intensity output, and the light intensity is dimmable while keeping the same light quality
● Fast change between illuminants and no warm up time Same illuminant properties during illuminant switch; no warm up time & instantly stable
● Single-channel control Arbitrarily control the intensity of each channel in LEDCube to design any light wanted
● Dynamic lighting Programmable light sequence and interval
● User-friendly software – LEDNavigator allow users to design light according to different optimization purposes. SDK available on request 
● Fast & accurate feedback – Maintain the same light quality, compensating for age and variable environments with external micro-spectrometer; more consistent than conventional lighting
● Flicker free based on AM driven method, it provides a flicker free lighting environment
● Longer life time and excellent long term stability compared to fluorescent technology, and optimized heat management resulting in excellent long term stability
● LED channel wavelength selection service from UV, VIS to NIR
● Wireless control – Up to 256 LEDCubes can be controlled separately or simultaneously via Zigbee wireless technology, easy to build  customized lighting space and future upgrade. Individual LEDCube control allows users to set different CCT for different LEDCubes in the same network to simulate actual environment
● Adjustable Stands – Place up to 3 LEDCubes on each fixture using shelves with adjustable heights. Position the fixtures in any orientation with lockable casters
Specifications
LED Channels: 15
Spectral range: 350-700nm
LED channel drive method: Amplitude Modulation
Resolution: 10 bit (1024 steps dimmable for each channel)
LED Lifetime: >10,000 hours
Capacity: 80 light source in LEDCube hardware; unlimited in software
Predefined illuminants: Standard daylight D65, D50 CIE Ra:99, Mlvis: Grade A (<0.25)
Tunable range: CCT: 2000 ~ 2000K, CIE Ra: 0~100, Duv: -0.02~+0.02
Max lux and illuminance: 1 light source D65: 1 meter 850lux; D50: 1 meter 1250lux (Multiple light source can achieve higher intensity.)
Short-term stability: D65<+/-10K, D50<+/-5K; Luminance <+/-0.5%
Long-term stability: D65<+/-25K, D50<+/-15K; Luminance <+/-1.5%
Software instrument compatibility: Konica Minolta CL500A, Konica Minolta CS2000, Thouslite FS Spectrometer, Jeti Specbos 1211UV spectroradiometer
Electrical: 110/230V, 50/60Hz, 180W Maximum
Connection: USB cable, wireless control, touch screen controller
Dimensions (L/W/H) & Weight: 300x300x210mm (270×270 emitting size), 7kg
Includes: LEDCube light source, Power cord, USB cable, wireless sender
Software (optional): Modules in LEDNavigator: Blackbody locus simulator, SPD match, Feedback, Dynamic Lighting, Single channel control, Single LED control; SDK available on request.