Introduction
Imatest IT (Industrial Testing) is a set of Application Programming Interfaces (APIs) that allow developers to access Imatest's powerful image quality analysis tools in their own custom applications.
Imatest IT is available for 64-bit Windows, MacOS and Linux, and includes libraries for use with C, C++, Python, Objective-C, .NET (Windows only – including C# and Visual Basic), and LabVIEW. IT also contains standalone executables that can be called from a command line or script. The API libraries perform the exact same calculations as the corresponding GUI-based Imatest Master modules.
Imatest IT is a complete package that includes the module libraries, support documentation, sample code, and complete applications that interface with the modules.
Although Imatest IT operates independently of Imatest Master, we strongly recommend that IT users have at least one Master installation on site. Imatest Ultimate Edition, which includes both IT and Image Master Edition at a significant discount, is the ideal option for most users. As you will see in Step 2 below, setting up your test configuration, an integral part of any IT application, is much easier using Master.
Imatest IT Modules
Imatest IT contains sixteen image analysis modules: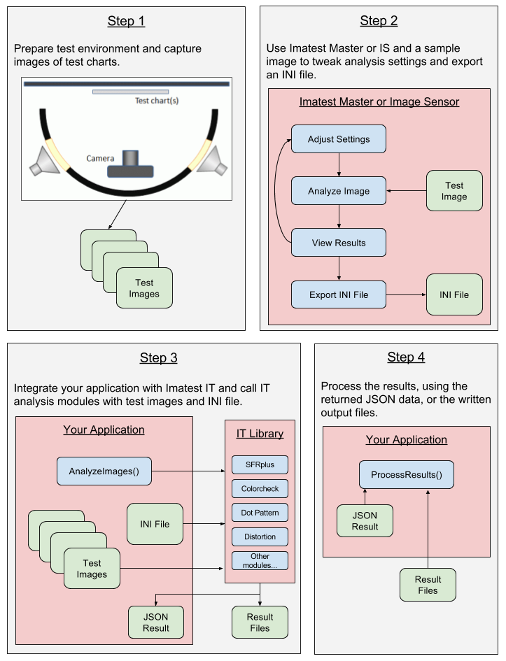 Using Imatest IT
As illustrated in this graphic, working with Imatest IT is a four-step process. Each of these steps is outlined in detail in this article.
Step 1: Prepare Test Environment and Capture Test Targets
Inputs: None
Outputs: Test Image(s)
Imatest's analysis modules require correctly framed and properly lit images of test targets. Once your test environment is properly set up, capture images of the required test targets for the modules you will be using.
Step 2: Configure INI File w/ Test Image(s)
Inputs: Test Image(s)
Outputs: INI File(s)
Using a sampling of the test images captured in Step 1, use Imatest Master to analyze the image files, choosing the options required for your application, and setting the Regions of Interest (ROIs) for your charts. Once everything is ready, export the INI file and keep it with your application source files.
In Imatest you can use the Save ini file for button in the Imatest IT settings window to save an ini file with only the needed sections.
Step 3: Integrate and Call Imatest IT Modules
Inputs: Test Image(s), INI File(s)
Outputs: Analysis Results
Code your application using your preferred programming language and call the module functions with your images and INI file.
Step 4: Process the Results
Inputs: Analysis Results
Outputs: Whatever you need
Load the analysis results and use them however you wish.
For more information on editing environment variables, see this article.
macOS Only – Updating DYLD_LIBRARY_PATH
On macOS computers, several paths need to be appended to the DYLD_LIBRARY_PATH environment variable.
(Optional) – Reducing Startup Time w/ the MCR Cache
The first time you use the Imatest IT libraries, they must be unpacked to a temporary directory. This can take several seconds, depending on your system. In some use cases, this can happen on every use, especially if you are using the Imatest IT Acquisition Library.
To prevent the repeated unpacking of the IT libraries, you need to set two more environment variables: MCR_CACHE_ROOT and MCR_CACHE_SIZE. The MCR_CACHE_ROOT variable tells the Matlab Runtime where to extract the Imatest IT libraries. Setting it to a specific location that has write access for all users ensures that this cache will not be deleted by the operating system when it cleans up temporary files. The MCR_CACHE_SIZE variable is the size, in bytes, that the Matlab Runtime cache is allowed to grow to before other libraries are deleted. To keep Imatest IT running at top performance, it should be set to at least 900000000, and will result in much faster startup times for Imatest IT for some users.
Follow the instructions here to add these variables to your environment.
Windows
Linux
macOS
Note that for macOS you will need to create this folder.
Other Additional Installation Steps
Select your preferred interface below to see detailed instructions.
Parallel Processing
Imatest IT now allows you to analyze several different images in parallel,
using the new parallel_analyzer function.
Arbitrary Charts Module
Imatest IT now allows you to call the Arbitrary Charts module in using the new arbitrary_charts functions. For more information on the Arbitrary Charts modules, see this article.
Stray Light Module