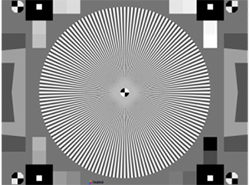 The Sinusoidal Siemens Star test chart allows you to measure MTF and limiting resolution with a chart that provides angular response and may be less affected by signal processing (especially sharpening) than slanted-edges. Siemens star MTF20 (the spatial frequency where MTF is 20% of its low frequency value) is a good estimate of limiting resolution. Since the Imatest Star module analysis is extremely noise-resistant, measurements are highly repeatable. When placed off-axis, the chart will have segments that cover sagittal and tangential directions in addition to vertical and horizontal directions.
The Siemens Star is included in the ISO 12233:2014 standard along with the slanted-edge and hyperbolic wedge, all of which are supported by Imatest modules. Slanted-Edge versus Siemens Star contains a detailed comparison of results. The Imatest version of the chart includes registration marks for automatic region detection and slanted edges for convenient MTF comparison. This target will be particularly useful for security and automotive industries where extreme processing is commonplace and RAW sensor data is difficult to obtain.
The Imatest Sinusoidal Siemens Star chart is produced on matte paper and is available at various sizes. Visit our store to learn more and purchase the target.