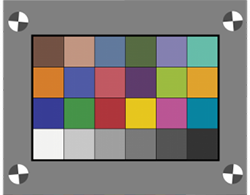 This new 24-patch Transmissive Color target can be used for evaluating color accuracy using a lightbox, which can be more compact and uniform than a reflective lighting system.
These targets are produced with high-precision Light-Valve Technology. Custom reference files are provided with each chart to ensure accurate color measurements. Customers using small field of view systems or testing at close distances will benefit from these small and precise targets.
Standard sizes include Small – 117.5 x 93.345 mm (4.625 x 3.675") and Medium – 177.8 x 235 mm (7 x 9.25"). Custom sizing as small as .35 x .5″ is available. Imatest recommends using this target with the ITI LED Lightbox.
Please visit our store to learn more or contact us with questions.