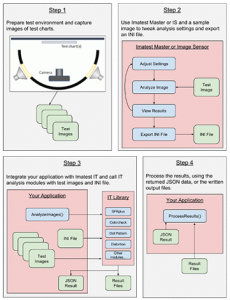 Imatest is pleased to unveil updated documentation for Imatest IT. The documentation has been updated to include the latest software release (Imatest 4.5), including details for new features, filtering options for preferred languages, and several new Troubleshooting articles.
Users can now filter Imatest IT instructions for their preferred languages and interfaces including C, C++, Python, .NET (C# and Visual Basic), and EXE. In addition, there are now more detailed installation and setup instructions for both Windows and Linux versions.
Imatest IT ships with several example projects in C++, Python, C#, and Visual Basic. You can find them in the samples folder of your IT installation, along with example images of Imatest test charts that can be used for each of IT's analysis modules.
Related Content
Automating Lab and Manufacturing Processes – [Webinar]