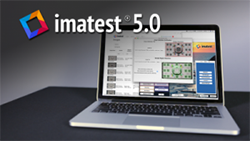 This week, we launched Imatest 5.0. We built Imatest 5.0 to provide users with a streamlined workflow for more efficient image quality analysis. Here are five reasons to start using Imatest 5.0 today.
Refined User Experience
Imatest 5.0 features several new tools and enhancements across our products to help you improve your workflow. Whether you want to reduce the number of images needed for complete system qualification with Arbitrary Charts; process a collection of images with automated analysis routines within the brand new Test Manager, or process batches of images with our enhanced image processing module, Imatest 5.0 is an improved experience for users needing an expedited testing process.
Innovative Image Quality Measurements
The newest release provides several new and enhanced measurements to help your focus on the image quality factors that matter to your business' camera system.
Contrast Resolution was designed for the visualization and measurement of contrast separation. This is particularly important for the automotive industry where camera systems need to distinguish between low contrast objects in a larger field with varying ranges of brightness.

The ISO 18844 flare measurement added to the Uniformity module was created to address the need to accurately measure veiling glare.

The enhancements to the SFRreg Center Chart provides geometric utilities for measuring tilt and rotational measurements, an especially important factor for users needing to test wide-angled measurements.
Focus on the image quality factors that matter most
Imatest tools serve many industries with widely varying requirements, for example testing an automotive camera system is different from testing a consumer device. Even within one industry, companies need to test several image quality factors on several test charts, complicating the capture analysis workflow. Imatest 5.0 lets you zero in on the image quality factors and results that matter most to your business.
Customizable reports allows users to more efficiently filter and present select image quality data from a variety of image quality factors.

The new arbitrary charts functionality serves a similar purpose by letting users define efficient layouts of analysis features within one chart.
Enhanced support for industry standards
Industry standards provide a foundation for the testing and analysis of imaging systems and clearly define testing methods for reliable measurements of system performance. Imatest 5.0 goes along way to support and supplement industry testing standards.
Run predefined test plans for standard testing procedures such as CPIQ within the new Test Manager.
The new P1858 Variant Combo chart, supported by Arbitrary Charts, combines several analysis features  required by the standard into one chart. This enables users to minimize the number of images needed in the testing process and increases testing efficiency and accuracy.
Imatest 5.0 also features an enhanced Uniformity module to support the ISO 18844 standard for image flare measurements on digital cameras. The standard was created to address some of the difficulties of making ISO 9358 measurements with cameras.
Streamlined Product Line
The Imatest 5.0 release includes the streamlining of the Imatest product line. As of Imatest 5.0, Imatest Master will now includes image acquisition capabilities that were previously available in Imatest IS, which is now discontinued. Imatest users will now have access to the acquisition library. The library supports direct acquisition from a wide range of frame grabbers and cameras, as well as industry standard interfaces like CameraLink, GigE Vision, and USB through DirectShow (Windows) or QuickTime (OS X). Direct image acquisition cuts out several steps in the image quality testing process and allows for in-the-loop testing with Imatest.
In order to maximize performance in the new Test Manager, we utilized parallel processing. Previously, parallel processing was only available in Imatest IT-P. With the release of Imatest 5.0, Imatest IT-P functionality is now included in Imatest IT . This enables all Imatest users to rapidly process large volumes of images. By utilizing high-performance processors with 6+ cores, parallel processing can improve throughput by over 2.5x.