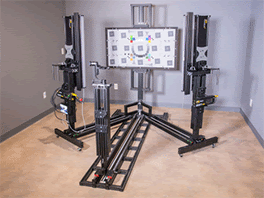 The Imatest MTS Reflective Module integrates with our Modular Test Stand Base Module and one or both of the following lights:
This fixture provides the basic setup for a test lab to perform image quality tests with reflective lighting.
Easily and reliably illuminate reflective test charts for efficient testing and robust measurements.
High-quality hardware allows you to effortlessly position the LED lights
Angle and position markers help you record light bank locations for future testing. 
The Base Module, Target, KinoFlo or Metaphase Lights are sold separately from the Reflective Module.