Imatest Supports I3A Camera Phone Image Quality Standards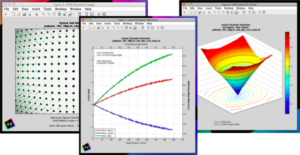 Imatest now has strong support for I3A (International Imaging Industry Association) CPIQ (Camera Phone Image Quality) standards, including Lateral Chromatic Aberration and Distortion (in the new Dot Pattern module), Color Uniformity, and Acutance. Read more about Imatest's I3A CPIQ Support.
The Dot Pattern module analyzes images of a dot pattern target (a Cartesian grid of circular dots) and estimates the optical distortion, SMIA-TV distortion, and the lateral chromatic aberration using the I3A CPIQ phase 2 standard methodology.
New noise measurements in Multicharts Module
The Multicharts module, which supports a large variety of color and grayscale charts, now includes several types of noise measurement, including chroma noise (with weights from the upcoming revised ISO 15739 standard) and raw sensor noise. The sensor noise measurement allows you to measure the full sensor dynamic range from a step chart with a limited tonal range because image sensor output fits the predicted equation very well.  Click here to read more.
Support for raw files has been greatly strengthened (more modules, better interface). These new features and more will be available soon in Imatest 3.9 coming early 2012. Write us at beta@imatest.com if you'd like to join the Imatest beta program, which gives you access to these new features sooner.
New Test Charts Available For Purchase
We are now shipping all test charts domestically and internationally.
Dot Pattern Test Chart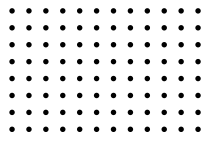 Printed on matte paper, the dot pattern test chart is available in 24″ to 44″ heights with vertical dot counts of either 15 (CPIQ minimum) or 25 dots.
Buy the dot pattern chart from the Imatest Store
SFRplus Test Chart With Revised ISO Standard 4:1 Contrast Ratio
In order to minimize the affects of nonlinear signal processing, the upcoming revision of the ISO-12223 standard will be reducing its chart contrast ratio from >40:1 to 4:1. To maintain full ISO compliance, Imatest is offering SFRplus charts with a contrast of 4:1 contrast and a small focus-aid pattern in the middle of the squares (shown on the right; modified from the ISO focus pattern to avoid false edge detection).
Purchase 4:1 contrast ratio SFRplus charts from the Imatest Store
Log-F Contrast Test Chart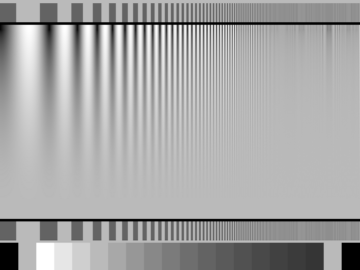 The Log-F Contrast chart contains a sinusoidal pattern that varies in spatial frequency on the horizontal axis (log frequency increases with x) and contrast on the vertical axis (proportional to (y/h)2 for image height h). It measures the MTF (contrast) for a wide range of spatial frequencies and contrasts, making it particularly valuable for measuring the loss of fine, low-contrast detail to software noise reduction, which can result in a "plastic" appearance in areas where fine texture has been removed. This type of nonlinear (or nonuniform) signal processing  is especially common in cameras with tiny pixels (< 2 microns), such as Smartphones and other camera equipped small devices.
Purchase Log-f Contrast charts from the Imatest Store

ISO-14524 and  simplified ISO-15739 Test Charts
Imatest's ink jet printed ISO-15739 Test Chart is a 15-patch grayscale step chart with 12 of the patches in a somewhat elliptical arrangement on the periphery and three in an inside row. Densities range from 0.10 to 2.00.  The relatively large patches are especially good for measuring noise. All Stepchart measurements are supported. The ISO-14524 Test Chart is available in both inkjet as well as reflective photographic material. It features 12 gray levels on a durable material. Densities range from 0.10 to 2.30.

Buy these and other ISO test charts from the Imatest Store
Sykpe Hardware Certification Test Charts
These 5×7 10:1 & 2:1 contrast ratio test charts have been recommended for depth of field and acuity testing.
Get this bundle of SFRplus charts from the Imatest Store.
Image Quality Test Lab Setup
Imatest now offers turn-key image quality test lab setup and training.  The test lab setup service is designed to get your image quality test lab up and running quickly.  A trained Imatest consultant will spend 3 days with your team, demonstrating how to setup a test lab, capture test chart images, analyze the images using Imatest software, and interpret results.

For details about what this package includes, see the Imatest Store.   Since one size of test lab does not fit everyone, Imatest will work with you to cater to your needs based on your imaging system and application.  Contact testing@imatest.com for more information.
Imatest 8MP Smartphone Image Quality Industry Reports
Imatest has now "Imatested" the most popular 8MP Smartphones and the reports are jam packed with technical, objective image quality metric data to give insight into which smartphone has the best image quality.  Reports can be used to support engineering R&D as well as strategic marketing, and enable direct comparison of objective and subjective results across products and serve as great competitive analysis benchmark.
Products Tested Include: HTC Inspire™, HTC MyTouch™ Slide, iPhone™ 4S, LG G2X™,Motorola Droid Bionic™, Motorola Droid X2™, Motorola Photon™, Samsung Droid Charge™,Samsung Infuse™
Image Quality Metrics Included:   Sharpness, SMIA TV Distortion, Field of View, Lateral Chromatic Aberration, Non-Linear Signal Processing Response, Shading (Luminance and Color), Dynamic Range, Signal to Noise Ratio (SNR), Subjective Assessment with Imatest custom natural scene and Color/White Balance Accuracy.
Contact testing@imatest.com for more information or check our store for purchase and download of the report.
Imatest Product Testing and Benchmarking
Imatest now has a state of the art testing facility to help you with your camera testing needs to validate image quality with unbiased 3rd-party testing and benchmarking.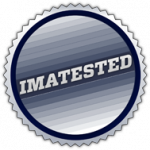 Product testing objectively measures how well an imaging system performs across a variety of standard quality metrics, and can be used to compare products and imaging components.  Imatest now offers independent assessment of digital imaging systems, using industry standard analysis and metrics, to deliver comprehensive product assessment and comparison reports.
If your organization is looking for testing and benchmarking support, please visit our website or contact testing@imatest.com to learn more.  Get your products "Imatested" today!
New Imatest Store Launched
We are offering you an improved shopping experience at store.imatest.com. Order through our online store to avoid the hassles of quotes and purchase orders.  You can even ship using your own UPS, FedEx, or DHL account number to get a better rate on shipping of test charts.
Attention Imatest Resellers
Imatest has established a new improved discount structure to you for sales to your professional clients and academic institutions. Please contact Michael Minard for details and a current price list. Michael's email address is: michael@imatest.com
Imatest Training Course 2012 Schedule
Announcing our training schedule for the first half of 2012:
| | |
| --- | --- |
| Boulder CO (Imatest HQ)  | Mar 22nd & 23nd |
| San Jose CA – Apr 25th & 26th | Apr 25th & 26th |
| Boulder CO (Imatest HQ)  | Jun 4th & 5th |