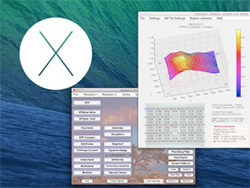 We are happy to announce that Imatest Master 3.10-Beta is now available for Mac OS X
We are confident in the stability of the image quality testing algorithms in this version, but have kept the Beta tag on this release since there may be some minor issues that remain to be resolved before we remove the Beta tag.
Our Mac release can be activated with the same Imatest Master license for PC, you can deactivate your PC version and activate on your Mac to quickly switch between operating systems.
If you run into any problems, we would appreciate dropping a note to support@imatest.com describing your issue.
Soon we will be expanding our Mac releases to support Imatest Studio, as well as Imatest Image Sensor Edition and Imatest IT.