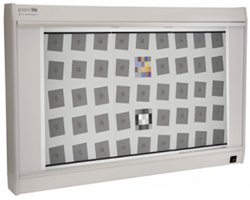 The High Precision SFRplus Target for GL-30E Lightbox is our most detailed resolution target. You can test high-resolution devices in compact environments using one-third the space required for extra-large Inkjet charts.
This transmissive target is a composite of three sheets of B&W Film, totaling 41cm x 76cm (16" x 30″), capable of testing cameras up to 43MP without MTF reduction due to chart quality limitations. An Inkjet chart of the same size would only be suitable for testing sensors up to 6.5MP. 
This target is designed to fit the GL-30E Lightbox, which provides stable and adequately uniform illumination. It is a compact and cost-effective alternative to bulky and expensive reflective lighting systems.
Update 2015-1-20: The GLX-30 lightbox has been replaced with the GL-30E
Rez Checker and ColorGauge
Use the miniaturized Rez Checker and ColorGauge for close range measurements of color, tone, exposure error, white balance and noise. These charts are of particular interest for medical imaging, especially endoscopes.


The Rez Checker's high precision reflective printing process enables precise resolution measurements. Fine detail is 13x sharper than in Inkjet prints and twice as sharp as B&W Film.
Color pigments match the X-Rite™ ColorChecker®. The Rez Checker is offered in one size and the ColorGauge in three. Visit our store to purchase the
Rez Checker
and
ColorGauge
.