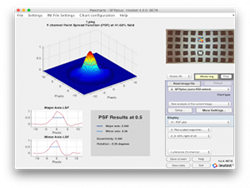 Imatest version 4.2 is now available as a public beta. Join our Beta Test Group to access 4.2 updates. Highlights include:
Point Spread Function (PSF): Imatest can now estimate an imaging system's loss of resolution (PSF) using a pair of collocated, near-sagittal and tangential slanted edges on SFRplus, eSFR ISO and SFRreg targets. Easily analyze and improve sharpness, chromatic aberration, and distortion measurements.

 

SFRreg Module: Analyze the SFR of slanted edges through the automatic detection of registration mark patterns (circles with two light and two dark quadrants). Use arrays of registration mark targets to test unique imaging systems, including systems with ultra wide angle fisheye lenses (>180 degrees), multiple camera combinations, video and more.

GUI Translation: New user interface translations for Simplified Chinese. Korean, and Japanese to come.
Beta Test Group Invitation
Join Imatest's Beta Test Group and gain early access to new features and bug fixes. Your feedback is incorporated into each official release to ensure you receive a seamless transition to new versions. You can learn more and sign up here. 
Boulder Training Reminder
Join us for a paid 2-day Training Course at our home office in beautiful Boulder, Colorado! The course will take place on September 3rd & 4th and is open to professionals using or considering Imatest software to improve their image quality testing processes. Learn more and register here.
Upcoming Training:
Boulder – September 3 & 4
Beijing – October 21 & 22
San Jose – November 5 & 6
Taipei – November 18 & 19
Upcoming Events:
Documentation:
New Customer Portal: manage your licenses, expedite your checkout process and more.
New Imatest License Manager
Important INI file compatibility changes
Fun Bits:
A mobile device that tests for skin cancer?
Current Release:
Sign up for our monthly newsletter