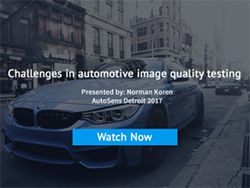 Review the challenges for human observers and/or machine vision algorithms to resolve low-contrast objects over a wide range of background brightness
How to distinguish low contrast patches over the full dynamic range of a test chart
Comparing the use of hyperbolic wedges in ISO16505 vs. slanted edges to measure MTF10 in automotive applications
Misunderstandings about low contrast slanted-edges
This video was previously recorded at Autosens Detroit 2017, the world's leading vehicle perception conference. See more more at www.auto-sens.com.
Related Content
For more information on Imatest's solutions for testing image quality in the automotive industry, please visit our solutions page. 
Image Quality Testing for the Automotive Industry [Webinar]
Three Companies Changing the Autonomous Driving Landscape [Article]