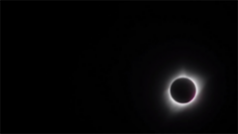 As predicted by astronomers years in advance, a peculiar cosmic event will occur on the morning of August 21st. Passing directly in front of the sun, the moon will cast a shadow racing across North America at supersonic speeds. From Salem, Oregon to Charleston, South Carolina, the 70 mile wide shadow will darken everything in its path. Outside the path of totality, all of North America will still be able to observe a partial solar eclipse!
If you can manage it, making your way into the path of totality will be an amazing experience. A little preparation goes a long way! The talented developers at Vox have created this interactive map to illustrate the magnitude of the eclipse from your location. It will inform you of the shortest distance to the path of totality!
If you'd like to capture an image of the solar corona like the one below from the National Parks Service, you must be in the path of totality. We would recommend following this shooting guide from the American Astronomical Society. Some general tips include: using a telephoto lens, setting focus manually, and capturing with optimal exposure settings. This exposure calculator by Xavier M. Jubier is a good place to start. Solar filters should be used for partial-eclipse stages, and the sun offers nearly 12 hours a day for you to practice finding good camera settings! This image is a composite of several exposures and involves hours of post-processing on a computer.
Important: If you are observing the sun on ANY day, practice safety protection by wearing a pair of ISO 12312-2 compliant glasses. Viewing the sun with non-ISO compliant glasses can cause significant eye-damage.