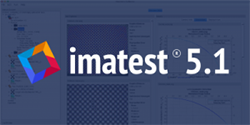 Our engineers are continually adding new features and updating Imatest software to provide you with the best analysis tool on the market. In our most recent release, our team has added several new modules to provide you better analysis tools. Here are the top three new features, and why should upgrade to Imatest 5.1:
Compensate for chart MTF to perform accurate high-resolution or close-distance sharpness tests
MTF Compensation reduces the impact of the chart on measured imaging system MTF.
Geometrically calibrate single or multi-camera devices obtaining camera intrinsic and extrinsic matrices for accurate machine vision and ADAS applications
A geometrically calibrated device provides a mapping between pixel coordinates and real-world position.
Direct image acquisition for Sony sensors
Imatest now supports direct image acquisition from Sony sensor development boards through the Sony AYA software tool.