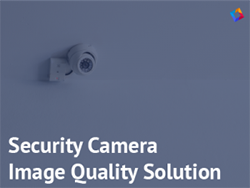 We now offer a complete, customizable image quality testing solution for security camera systems to provide our customers with an easy, effective way to outfit their labs. While working with some of the top security camera manufacturers, our engineers have compiled all of the necessary lab materials in a convenient package. The package includes options for software; reflective, transmissive, tunable, and ultra-wide light sources; test fixtures for a variety of fields-of-view and focus distances; and applicable test charts to analyze crucial image quality factors.
Software
The Security package includes two software options, Master and Ultimate. The Master version, designed for R&D testing, is a robust analysis tool to help you measure any and every image quality factor of your camera system. The Ultimate version combines Master and IT, an automated production line testing version, and is a cost-effective solution for customers who manage R&D and production testing. Read more about our software version and license options here.
Test Fixtures
We include several test fixtures that help test varying fields-of-view (FOV) and focus distances properly. For ultra-wide testing with fields-of-view up to 270˚, our Ultra-Wide Test Fixture works perfectly to help analyze image quality factors such as sharpness and chromatic aberration using our eSFR ISO and SFRreg charts. If you have long-range testing requirements, we've included several collimator lenses and target projection systems to help you to test at or beyond your focusing distance. To automate and provide more flexible positioning, add one of the robotic automation fixtures from our partners Sofica and IQL.
Light Sources
Choose from a variety of reflective, transmissive, tunable, and ultra-wide lighting system options. We have included our most widely used reflective light source; the Kino Flo FreeStyle 31 LED DMX for its adjustability, portability, and high-illumination output. To test dynamic range, and high-resolution systems, select a uniform, transmissive LED light box with Lux levels ranging from 10,000 – 100,000. The brightest lightbox enables you to achieve IEC 62676 compliance. For the most adjustability in spectral and Lux levels, and for ultra-wide field-of-view uniformity testing, choose one of our tunable light sources such as the wide-FOV version of the Gamma Scientific RS-7.
Test Charts
To make your selections easier, we have included the most appropriate test charts to meet a variety of requirements for security cameras. For reflective resolution needs, select from our ISO 12233:2014 compliant multi-feature test charts, a Checkboard chart, or sinusoidal siemens star pattern chart. For use with the transmissive, uniform light sources and dynamic range and high-resolution testing, choose to use our ISO 12233:2014 chart printed on High-Precision LVT Film, and our Ultra-High Dynamic Range test chart.
View the package, the options included, and receive a quote by visiting our store.
Of course, we know that not everyone's requirements are the same, so if the package doesn't seem to be a good fit for you talk to a solution expert and we will customize a solution for your unique needs.