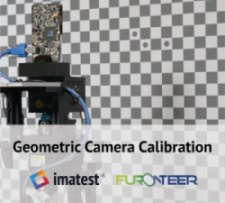 BOULDER, CO – JUNE 25TH, 2019 — Imatest, a global image quality testing solution provider, partnered with Furonteer, an automation equipment manufacturer, in early 2019 to provide production machines for geometric calibration of single and multicamera devices.
"Since partnering with Imatest, we have proven a calibration solution that overcomes the technical limitations in the camera calibration process that autonomous camera manufacturers currently face. There is tremendous synergy between our two companies," said Simon Bae, CEO, and President of Furonteer in South Korea. "With Imatest's leadership in image quality testing and our leadership in active alignment and automated multicamera alignment equipment for mobile and automotive camera modules, we expect to expand the business cooperation to a variety of applications and establish ourselves as key solution providers in the automotive space and beyond."
The companies combine two areas of expertise for an all-in-one solution that enables customers to rapidly calibrate cameras to meet internal and 3rd party vision system requirements. As manufacturers strive to make reliable autonomous driving vehicles, the pressure increases for providers to source and accurately calibrate the cameras necessary to build systems that safely guide cars on the road. Imatest's solution, in partnership with Furonteer, significantly increases the effectiveness of a company's camera calibration tests to produce images that accurately represent real-world scenes, empowers the company to meet extremely challenging perception system requirements, and reduces the overall costs required to complete camera calibrations.
Henry Koren, Director of Engineering at Imatest, said, "Our partnership with Furonteer fills a gap in the market for camera calibration. It is a rigorous process for customers to calibrate their single or multicamera devices to meet system requirements. By combining our imaging science expertise with Furonteer's manufacturing prowess, we offer a very accurate and reliable way for customers to complete their calibrations in a production environment."
Imatest and Forunteer actively work with Tier 1 manufacturers and OEMs to define their unique calibration process and reduce the time to market. For more information on Imatest's Geometric Camera Calibration Solution, navigate here. To contact Imatest directly about this solution, please contact them here.
Imatest, LLC
Imatest, LLC has been empowering customers to produce cameras that exceed their customers' expectations since 2004 by enabling objective measurements with impartial testing software, equipment, and expertise. For more information, visit Imatest's website at imatest.com/about.
Furonteer Inc.
Furonteer created its name from a combination of Future, Frontier, and Pioneer because they are a Pioneer of the Future Frontier in technology. Established in 2009, they serve customers with a variety of camera module test equipment for R&D and manufacturing with a focus in automation equipment for active alignment and multicamera alignment. For more information, visit Furonteer's website at furonteer.com.
© Copyright 2019 Imatest, LLC. All rights reserved.
© Copyright 2019 Furonteer. All rights reserved.