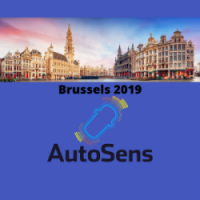 BOULDER, CO -September 4, 2019—Imatest, a global image quality testing solution provider, and Furonteer, an automation equipment manufacturer, are finalists for the Best Validation/Simulation Tool Award provided by AutoSens, a forum for Advanced driver-assistance systems (ADAS) technologists.
"We are very pleased to be a finalist for the Best Validation/Simulation Tool at AutoSens. Our engineers have devoted numerous hours to designing and building a solution with Furonteer that meets and exceeds the company's camera calibration requirements," says Henry Koren, director of engineering at Imatest. "It is an extremely complex process, and being a finalist highlights the importance of having an accurate calibration solution."
The Imatest-Furonteer geometric camera calibration solution is the first all-in-one solution to meet arduous third-party system requirements and accurately calibrate ADAS cameras with combined analysis software and hardware. The solution enables automotive OEM and Tier 1 manufacturers to better understand the projective geometry of the cameras built for vehicles in a high-volume production environment; thus, contributing to the viability of autonomous vehicles.
"It is exciting for us to be globally recognized for the Imatest-Furonteer Geometric Calibration Solution.," states Simon Bae, CEO of Furonteer.  "Winning this award would add to the success we have already achieved with well-known OEM and Tier 1 manufacturers in their journey in creating autonomous vehicles."
AutoSens hosts over 1,200 of the leading minds in vehicle perception, ADAS, and autonomous vehicle technology at three conferences across the globe. Each year, various companies receive awards across nine categories for advancing technologies, research, and testing that make a difference in ADAS technologies. In 2019, the awards judging panel consists of representatives from General Motors, NIO, and NVIDIA. 
For more information about the Imatest-Furonteer solution, please visit Imatest's website at imatest.com/solutions/geometric-camera-calibration. 
Imatest, LLC
Imatest, LLC has been empowering companies to produce cameras that exceed their customers' expectations since 2004 by enabling objective measurements with impartial testing software, equipment, and expertise. For more information, visit Imatest's website at imatest.com/about.
Furonteer Inc.
Foronteer provides camera module test equipment for R&D as well as manufacturing fields. With a focus on automation equipment for active and multicamera alignment, Furonteer has served customers since 2009. Visit Furonteer's website at furonteer.com for more information. 
© Copyright 2019 Imatest, LLC. All rights reserved. 
© Copyright 2019 Furonteer. All rights reserved.