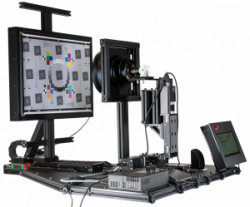 Imatest introduces its new Collimator Fixture, which can test your imaging system at distances up to infinity — all within the limited space of a test lab. 
Imatest developed this relay lens system for R&D to help its customers test at hyperfocal distances within a limited space.
"The Collimator Fixture is adaptable to numerous camera systems by providing adjustable simulated test distances, interchangeable collimating lenses and a variety of charts," says Henry Koren, director of engineering at Imatest.
The Fixture integrates with Imatest LED Light Panels (sizes C through G) and includes a joystick and computer-control interface for automatic positioning using four motorized stages. It also features storage and recall of device positions. For more information, pricing, and current lead time, contact sales@imatest.com 
Learn More