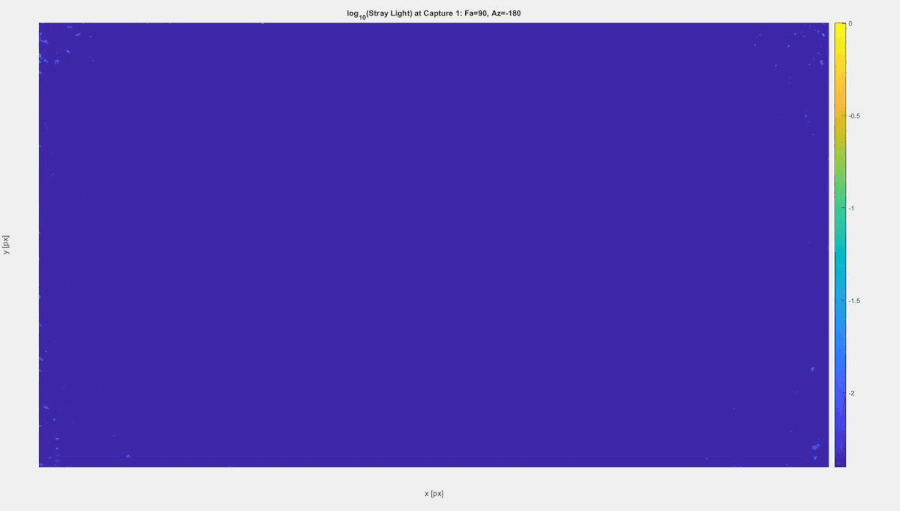 September 13th, 2022, Brussels, Belgium, and Boulder, CO. Imatest announced at AutoSens Brussels the release of its new stray light (flare) testing solution, available with Imatest version 22.2. 
Stray light, also known as flare, is any light that reaches the detector (i.e., the image sensor) other than through the designed optical path. Stray light can be thought of as systematic, scene-dependent optical noise. Depending on the mechanism causing the stray light, it can produce phantom objects within the scene (i.e., ghosts/ghosting), reduce contrast over portions of the image (e.g., veiling glare), and effectively reduce system dynamic range. These factors can adversely affect the application performance of the camera in a wide variety of applications including automotive, security, machine vision, and consumer electronics, and is addressed in the upcoming IEEE P2020 standard. The Imatest stray light testing setup allows users to measure stray light for imaging systems.
"We are very excited to introduce a new comprehensive stray light testing solution," says Remi Lacombe, CEO of Imatest. "Stray light degrades the performance of camera systems by limiting dynamic range. This new testing solution is one key step forward for Imatest to deliver a complete suite of IEEE P2020 tests." 
The Imatest stray light (flare) testing solution consists of a motorized gimbal, which allows for automated rotational positioning of the camera, a light source either collimated or diverging, and the Imatest Stray Light (Flare) Analysis using Version 22.2.  In addition, customers can purchase a blackout/light curtain fixture, the Modular Test Stand, or an optical bench for enhancing the test setup. The full solution will be available for purchase in the Fall of 2022.
While the existing ISO 18844 standard describes a method to measure stray light, it is limited to a measurement of veiling glare using a static setup.  The IEEE P2020 Automotive Image Quality Working Group is developing a new, comprehensive stray light test method that involves capturing images of a bright light source positioned at various angles in and outside the camera field of view.  The Imatest Stray Light (Flare) Analysis is designed to provide support of this method. Users can capture stray light images using the motorized gimbal and a tunable light source. The images can then be imported into Imatest Version 22.2 for analysis. 
In addition to the new stray light software features, Imatest version 22.2 includes Auto Exposure (AE) and Auto White Balance (AWB) measurements in the Color/Tone auto analysis (which allow for tuning and quantification of temporal video performance), stereo image geometry comparison in FocusField, and Enhanced Image Preview.