Running Rescharts slanted-edge modules
(Interactive and Auto mode settings)
Imatest Rescharts slanted edge modules— SFRplus, eSFR ISO, SFRreg, and Checkerboard— perform highly automated measurements of several key image quality factors using specially-designed test charts. This document shows how to run these modules in Rescharts and how to save settings for automated runs. 
Four introductory pages —  SFRplus, eSFR ISO, SFRreg, and Checkerboard — describe each module and explain how to obtain and photograph the chart. 
Rescharts Results Part 3 and Part 4 illustrate the results.
Selecting files – Setup window – ROI selection & analysis – Edge ID files – More settings window
Secondary readout – Settings area – Auto mode window – Warnings – Summary 
This page combines instructions for the four Rescharts slanted-edge modules
that have automatic region detection,
 SFRplus, eSFR ISO, SFRreg, and Checkerboard. 
These modules contain many common functions,
making a single page easier to maintain than four separate pages.
In many cases we will use SFRplus as an example. The other module may be substituted.
New in Imatest 5.1  Chart MTF compensation has been added to compensate for chart limitations. This can double the maximum megapixel capacity of most charts.
Imatest 5.0  Nonuniform lighting perpendicular to the edge can be compensated. This improves the estimate of summary metrics such as MTF50.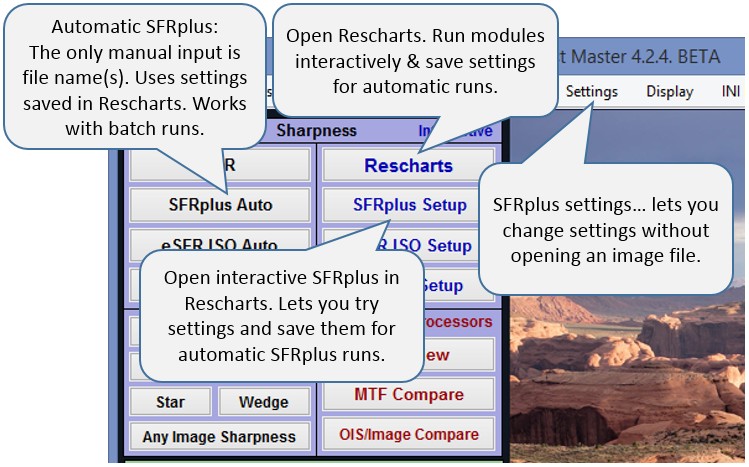 Open Imatest by double-clicking the Imatest icon 

on
the Desktop,

the Windows Start menu,

the Imatest folder (typically C:Program filesImatestMaster in English language Windows installations).
SFRplus, eSFR ISO, SFRreg, and Checkerboard operate in two modes:
interactive/setup

 (in Rescharts) and

Automatic (batch-capable)

.
Since Automatic runs for each module use settings from interactive/setup runs, an interactive/setup run should always be run first.
The following instructions apply to all Rescharts slanted-edge modules.
To start an interactive/setup run, press [module] setup or Rescharts, [module], where [module] is SFRplus, eSFR ISO, SFRreg, or Checkerboard. [module] setup opens a dialog box for reading an image file for the selected module. Rescharts is more general; it lets you open any Rescharts module.
Either of these buttons allows you to analyze an image for the chosen module, examine detailed results interactively, and save settings for the highly automated SFRplus Auto,  eSFR ISO Auto, SFRreg Auto, or Checkerboard Auto runs (or the even more automated Imatest IT versions). The module should be run interactively at least once prior to the first Auto run. Settings can also be updated by pressing Settings, [module] Auto settings from the Imatest main window.