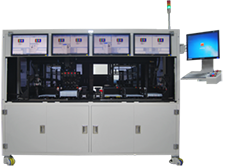 New Feature: Imatest IT Parallel
Increasing testing throughput
The new Imatest Industrial Testing Parallel uses parallel processing to improve the throughput of Imatest IT and maximize the image processing power of your computing hardware. IT run in parallel enables up to 3x more throughput to support test equipment that requires a high volume of images to be analyzed. IT-P improves the PPH (parts per hour) on assembly lines. 
Industrial Testing 
Optimizing product yield and quality
Imatest Industrial Testing (IT) software allows for the integration of key Imatest Master and Imatest Image Sensor (IS) module functionality into your custom testing programs. Quickly test products on the production line while maintaining quality standards. Manage multiple suppliers using one unbiased testing algorithm and catch quality issues earlier in your supply chain.
Selected Features:
Pass/Fail Spec: Define the required quality levels for a camera
SFRplus Chart Analysis: Complete map of sharpness non-uniformity
ISO 12233:2014  E-SFR Chart Analysis: Test using the latest ISO standard      
Even Field Test: Detect blemishes and defective pixels on the sensor, measure color and illumination uniformity
Operator Console: User interface for production testing environments
 
Manufacturing with Imatest
For years companies have used the powerful testing capabilities of Imatest Master and IS to perform R&D and set product requirements. These same testing capabilities are found in Imatest IT, allowing rapid production line testing with optimal quality control. IT-P extends Imatest IT by offering parallel processing technology that reduces cost and saves time through faster testing with fewer resources.

Give your entire company consistent image quality control from design to manufacturing by using the full line of Imatest software solutions.
Please reach out with any questions, request an IT/IT-P trial or visit our store to purchase your testing solutions.
Upcoming Training:
San Jose – June 1 & 2
Germany – June 30 & July 1
Shanghai – June 17 & 18
Seoul – August 26 & 27
San Jose – Sept 1 & 2
Beijing – Oct 21 & 22
San Jose – Nov 10 & 11
Taipei – Dec 9 & 10
Documentation
Managing Supply Chain Image Quality
Current Release:
Download Imatest 4.1.3