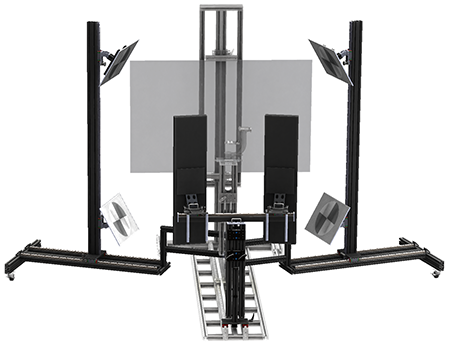 Imatest introduces its new Wide Field of View (WFOV) Module, which is an easy-to-use platform for testing sharpness in cameras with FOV up to 200º. This solution integrates with the Modular Test Stand and features three rail systems for easy positioning and mounting of camera devices, peripheral test targets, and Kino Flo LED panels. The main chart holder accommodates a variety of different test charts; mounting points for Isolight Pucks enable easy measurement of lighting brightness and color uniformity.
Features
Polar-coordinate system for four reflective SFRreg targets whose distance, angle, and height can be easily adjusted.
Sliding light post for mounting Kino Flo LED panels that provide uniform illumination of all test charts.
Mounting points for Isolight Pucks that measure lighting brightness and color uniformity.
Benefits
Tests sharpness in cameras with diagonal FOVs between 140º – 200º
Provides test distances of 0.5 m to 1.5 m.
Includes a polar-coordinate system.
Allows efficient and easy adjustments and uniformity measurements.