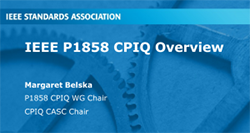 What is CPIQ?
IEEE-SA working group P1858 created the CPIQ standard. CPIQ seeks to standardize image quality test metrics and methodologies across the mobile device industry, correlate objective test results with human perception, and combine this data into a meaningful consumer rating system.

CPIQ serves as a way to assess and communicate image quality to the vast majority of consumers who are unsure how to judge and compare device image quality.
Imatest support for CPIQ
Imatest 4.4 supports all CPIQ v1 measurements, including:
Future revisions of the standard will cover white balance, autofocus, video quality, dynamic range and many more relevant image quality factors.
Download Imatest 4.4, see our Change Log for more details.