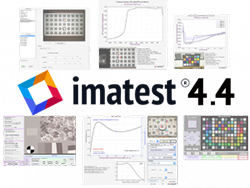 Imatest is pleased to announce the release of version 4.4, which includes the following features:
Support for all 2016 Camera Phone Image Quality (CPIQ) standard metrics for mobile device image quality. CPIQ serves as a way to assess and communicate image quality to the vast majority of consumers who are unsure how to judge and compare device image quality. See a full CPIQ overview.
Auto-focus, Auto White Balance, and Auto Exposure (AAA) metrics for faster image adjustments. AAA metrics were created to address the video image quality aspects that most affect user experience.
Floating Licenses for all Imatest software adds flexibility in shared work environments. Please contact us for a quote.
Image Sensor device manager now includes complete access to all device controls in supported image sensors and frame grabbers.
New Imatest IT .NET interface for .NET Framework 4.0 and higher, including C# example code. 
Image processing module to assess the effect of standard image processing algorithms on image quality.
Download Imatest version 4.4 and see our Change Log for more details.