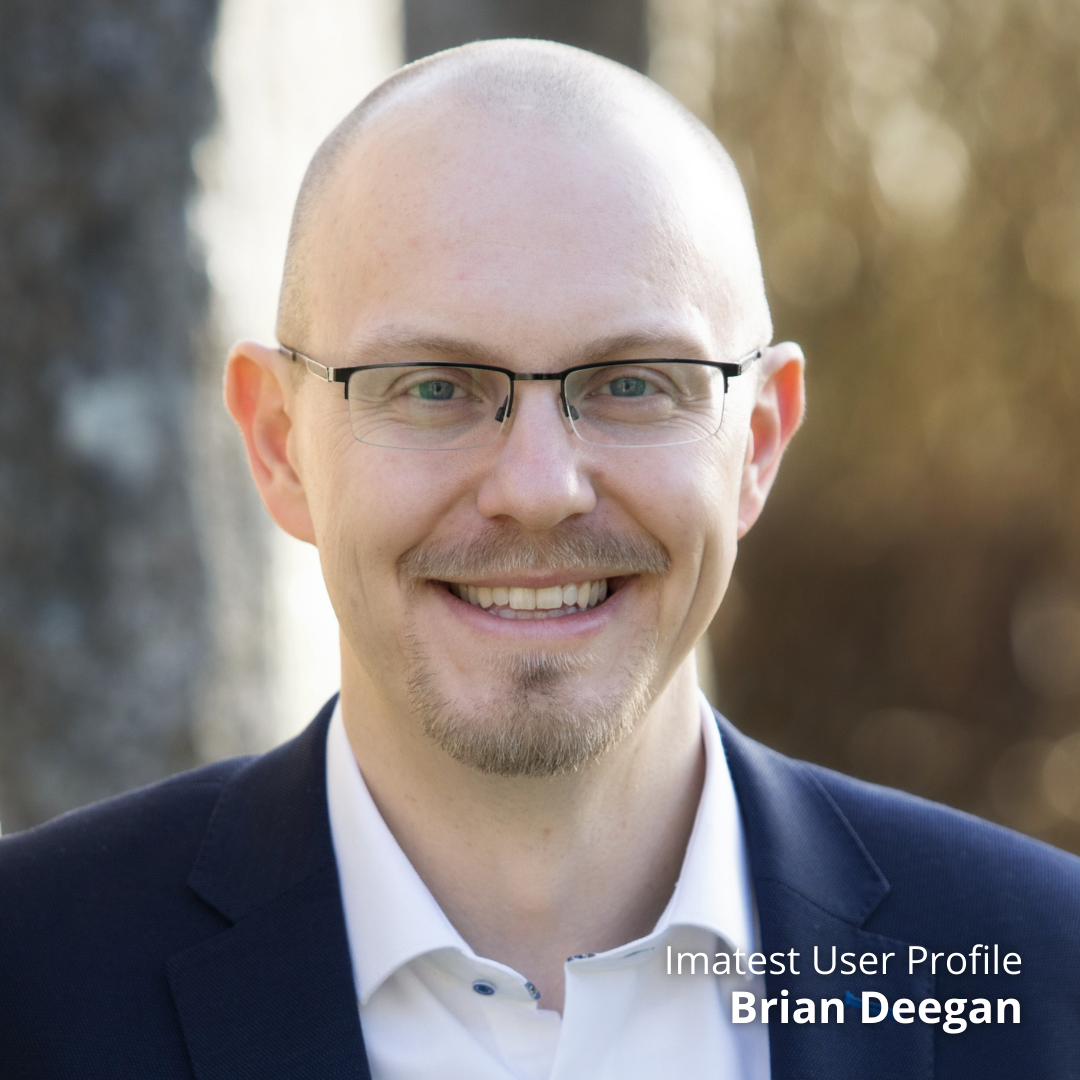 Imatest is happy to introduce customer profiles! Each month, we will interview one of our Imatest users to share why they use the software and create a sense of community among our users. Interested in being featured? Reach out to mia@imatest.com.
The first customer profile is Dr. Brian Deegan. Based in Ireland, Brian is a long-time user who has utilized the Imatest software across multiple disciplines. Read more about our interview with Brian:
Mia: How long have you been using Imatest?
Brian: It must be ten years now at this stage. I started at Valeo in 2011 and have used it throughout my entire career there. I started in university this year and I'm still using it.
Mia: Awesome. And you're still using it now that you're at the university?
Brian: Yeah, not as much and not as much directly, but one of the PhD students here is using it as part of this project.
Mia: That's very cool. Segueing into the next question, what do you do for work?
Brian: I used to work for Valeo vision systems and that's how Norman [Koren], Henry [Koren], and the team would know me. I was working in automotive image quality, so everything from simple backup cameras to surround view cameras, mirror replacement cameras, cameras for autonomous driving; everything to do with that. In my career I was primarily responsible for, I suppose, image quality, assessment tuning and optimization. So, everything from measuring the sharpness and noise performance of the cameras to trying to get the best image quality for reviewing, machine vision, and performance; that kind of thing.
Mia: What feature in the software do you find yourself using the most or kind of what's been your favorite feature, if that's the avenue you want to take it in?
Brian: Yeah, sure. The most common ones that I've used would have been the SFR test for measuring the sharpness of the cameras. I've used that quite a bit. The step chart tools for measuring color accuracy with the color checker charts as well. I've also used the uniformity measurement quite a bit for measuring the color and shading uniformity of lenses. So, those that have been the ones that I've used most commonly. There are other ones I've used as well for measuring aliasing using the wedge targets, and I use some of the newer ones for the ISO-16505 standard. I do use some of the dynamic range measurements and some of the CPIQ measurements–less often, but I do use those too.
Mia: Well that's very cool. It seems like you got to cover a lot of the software.
Brian: Yeah. I know that you mentioned features that that I liked: I like the chart order feature. So obviously yours is everywhere, Imatest manufacturers test targets. But every now and again it's nice to just print off a chart, quick and dirty, for doing quick tests. The chart order function has proved very useful over the years. Another one that's nice—it's basically an image quality simulator where you can simulate different MTF curves for illustration and demonstration purposes.
Mia: Cool, thank you. Being that you're in the image quality industry directly, is there any direction you'd kind of like to see Imatest go?
Brian: Not particularly as such. In terms of image quality assessment, there's only a handful of companies that are involved, and Imatest is one of the leaders in the area. I've given feedback over the years as time has gone by. But you know, a team like Norman and Henry, and even Paul Romanczyk, they go to the standards meetings and are heavily involved. Whatever is going on in the industry, Imatest has had people that are either at the conferences or involved with the standards. So I think in terms of the developments that are going on in the industry, it's safe to say Imatest has a reasonable, good finger on the pulse from that point of view. In terms of features and stuff like that, I suppose a couple of years ago I would have said that Imatest weren't as good as some of the competitors in terms of some of the hardware, Imatest was more refined for targets and software. However, that gap has closed in the last few years.
Thank you to Brian for his valuable feedback and participation!