Summary: The physical lens-to-sensor tilt angle is difficult to measure from images, but the effects of tilt on image quality are highly measurable, and can be included in pass-fail criteria.
Introduction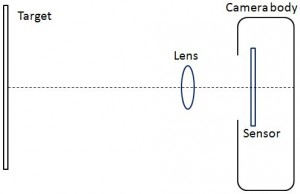 There are four planes that affect image quality in digital cameras: the test target, the lens, the sensor, and the camera body. In a perfectly-aligned camera, each of these planes will be aligned parallel to the others.
When a "tilt" measurement is specified, it is important to define which pair of planes is tilted with respect to each other. Different tilts have different effects on image quality. Two are of particular interest.
Lens-to-sensor tilt primarily affects focus plane. It has only a secondary effect on geometry. This is the tilt that is most likely to be called for in a specification. It can be expressed as tilt amplitude (amount) and direction.
Target-to-sensor tilt affects geometry (keystone distortion, which is measured by two convergence
angles in SFRplus), and also affects the focus plane. (more…)
Read More